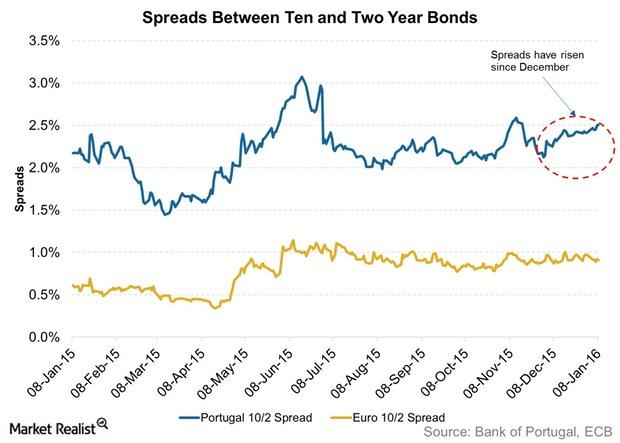 Portuguese Bond Spreads Have Been Rising
Portuguese bond spreads
In the last part, we discussed why Portuguese bond yields have been rising, especially since the end of December. Apart from yields, the spreads between Portuguese bonds have been rising as well.
"Yield spreads" refer to the difference between the yields of two fixed-income securities. They can either be of the same or different credit quality. Spreads are measured in basis points. One basis point is one-hundredth of a percentage point—1.0% = 100 basis points.
Article continues below advertisement
In the above graph, we calculated spreads between ten and two-year Portuguese and European bonds. We'll mainly look at the movement in Portuguese bond spreads. We showed the European bonds as a reference. We displayed this spread as a 10-2 spread. It represents the difference between ten and two-year bond yields.
The highlighted portion of the graph shows that the 10-2 Portuguese bond spread rose sharply in December. This was related to concerns about the financial position of some Portuguese bonds. It was also due to the Bank of Portugal's action. It transferred five bonds from Novo Banco to Banco Espirito Santo.
Bond transfer
Portugal's central bank transferred the following senior bonds from Banco Novo to Banco Espirito Santo:
6.875%, July 2016
2.625%, May 2017
4.750%, January 2018
4.000%, January 2019
6.900%, June 2024
This transfer amounts to a balance sheet total of 1.985 billion euros. Banco Novo said that its ability to absorb losses rose from 9.4% at the end of June 2015 to ~13% after the move. The reason for choosing these bonds was that they're governed by Portuguese law instead of the law of other nations. This restricts legal action to Portuguese courts.
Markets are concerned about Portugal's central bank violating the "pari passu" clause. It translates to equal treatment. To learn more, read Why Novo Banco Isn't as Good as It Looked.
Apart from regional (SAN) (BBVA) and related (BBDO) banks being impacted by the move, investors are concerned about defying pari passu. It ensures equal treatment of similar securities. They're concerned that it could encourage other nations with troubled bonds issued under their own country's law to do the same in order to fortify their weak banks' finances. This will hurt investor confidence. Investors might not be willing to lend to banks in the future.
It could hurt more than banks' credibility as lenders. In general, bonds might be impacted. This would affect mutual funds like the Hartford World Bond Fund – Class A (HWDAX) and the AB Global Bond Fund – Class A (ANAGX). They have sizable exposure to bonds from Europe.
What should investors in similar bond mutual funds (CWBFX) (IVSAX) do? Let's discuss this in the next part.