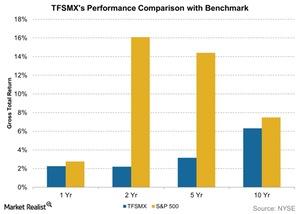 A Must-Read Structural Analysis of Alternative Mutual Fund TFSMX
By Ivan Kading

Nov. 20 2020, Updated 11:13 a.m. ET
Alternative mutual funds
Alternative mutual funds seek to accomplish their objectives through non-traditional investment strategies that offer exposure beyond traditional stocks, bonds, and cash. These non-traditional investment strategies allow the funds to take additional exposure in different asset classes through leveraging.
Unlike traditional funds, alternative mutual funds give retail investors access to modern hedge fund strategies such as market-neutral, global macro, and arbitrage strategies, among others.
A historical performance comparison of the TFS Market Neutral Fund (TFSMX) with the S&P 500 Index (VFINX) is given in the graph above.
It can be observed from the graph above that historically, TFSMX has given positive absolute returns to its investors. Though the fund has given a return lower than its benchmark, it has shown consistent positive performance over the years.
Article continues below advertisement
Market neutral
TFSMX uses a market-neutral hedge fund strategy to achieve its investment goals. A market-neutral strategy takes both long and short positions in various indexes or stocks to seek profit from both rising and falling prices.
A long forward contract is a contract to buy a particular asset at a future date with the expectation that the asset will rise in value. A short position is opposite to a long position, and the expectation is bearish.
The primary objective of the fund is to produce capital appreciation while having a low correlation with the US equity market, which the adviser defines as the S&P 500 Index.
TFSMX: A brief
E-mini S&P 500 is the top holding in TFSMX. It holds Apple (AAPL), Microsoft (MSFT), and Amazon (AMZN), among others. The top equity holdings of TFSMX are YRC Worldwide (YRCW), MRC Global (MRC), Tech Data (TECD), and Concert Pharmaceuticals (CNCE), among others.
The fund is managed by Eric S. Newman, Kevin J. Gates, Richard J. Gates, and David S. Hall from TFS Capital. The fund has a net expense ratio of 1.9% and a minimum investment limit of $5,000.
A detailed holdings analysis of TFSMX is given in the next article.