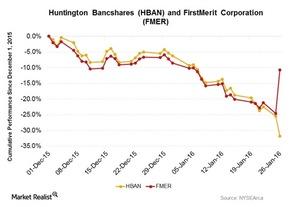 Huntington Bancshares Landed at the Bottom of SPY on Merger Deal
Huntington Bancshares-FirstMerit merger
Huntington Bancshares (HBAN) plunged 8.5% on Tuesday, January 26, after the bank announced its plan to acquire FirstMerit (FMER) in a deal worth $3.4 billion. The merger will combine assets valued at ~$100 billion and form the largest bank in Ohio. As per the deal, shareholders of FMER will receive 1.7 shares of HBAN along with $5 in cash for each FMER share they own. The deal is anticipated to increase HBAN earnings by 10% in 2018. Still, HBAN fell on the day while FMER rose 18.4% on January 26.
The following graph presents the stock price movement of Huntington Bancshares (HBAN) and FirstMerit (FMER) since December 2015.

Article continues below advertisement
The beta value of Huntington Bancshares (HBAN) is 1.1, which implies that the stock is sensitive to the broad market movement. However, the merger deal was not very welcomed by HBAN investors, which resulted in the fall in its price. There was a surge in its trading volume to 88.3 million from the previous day's volume of 71.2 million after the merger news. HBAN traded at $8.05, which is below its moving averages. The 100-day, 50-day, and 20-day moving averages are $11, $11, and $10, respectively. The stock has earned 11 "buy," 18 "hold," and two "sell" recommendations. S&P has rated the stock as "BBB" with a "stable" outlook.
Top stocks
Stocks at the top of the SPDR S&P 500 ETF (SPY) on Tuesday, January 26, were QEP Resources (QEP), Williams (WMB), and Range Resources (RRC). These stocks went up 12.2%, 11.5%, and 10.0%, respectively, on the day. The rise in oil prices propelled these energy stocks to the top of SPY.
For more insight into US equities, visit our US Equity ETFs page.