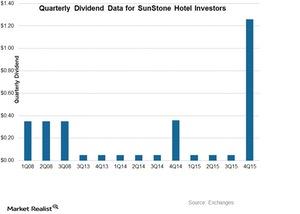 Hotel and Mortgage REITs Took a Plunge
Hotel and mortgage REITs plunged
Within the iShares US Real Estate ETF (IYR), mortgage and hotel and resort REITs were the worst-performing subgroups of the week. Both the subgroups ended the week with negative returns of 3.7%. SunStone Hotel Investors (SHO), Host Hotel & Resort (HST), Chimera Investment (CIM), and Two Harbors Investment (TWO) were among the worst performers with negative returns of 9.5%, 3.8%, 6.7%, and 6%, respectively.
Article continues below advertisement
Several important developing situations led to the downfall of SunStone Hotel Investors (SHO). SHO disclosed the sale of its leasehold interest in a Times Square hotel for $540 million. The stake sale of this hotel is estimated at $1.2 million per room. At the same time as the sale, SHO paid back the remaining $175 million balance of the mortgage secured by the Times Square hotel. The sale had the following implications for the company:
Year-to-date, hotel RevPAR (revenue per available room) for 3Q15 rose by 5.9%. Adjusting for the sale, the growth would have been 6.5%.
The year-to-date EBITDA margin for 3Q15 was 31.1%. Adjusting for the sale, the margin would have been 31.3%, which is a rise of 130 basis points.
The company also paid back its debt of $30.7 million secured by Hilton North Houston. The latest transaction seems to be strategically planned, as the company plans to unlock value through the disposition of assets. It might give the company's balance sheet a breather due to substantial liquidity. Moreover, SHO entered into a term loan agreement that allows a six-month period to borrow up to $100 million. With this term loan, the company plans to repay the loan secured by Boston Park Plaza.
The company also declared its 4Q15 dividend of $1.26 per share to common stockholders. The graph above shows the dividend history for SunStone Hotel Investors (SHO).