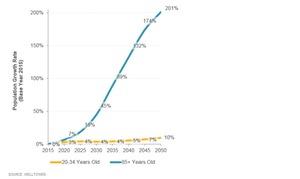 Healthcare REITs Saw Steady Growth Last Week
Healthcare REITs were rising steadily
Healthcare REITs ended the week of December 31, 2015, as the most valuable subgroup within the iShares US Real Estate ETF (IYR). The subgroup ended the week with positive returns of 1.2%. Ventas (VTR), Health Care Realty Trust (HR), and WellTower (HCN) contributed the most to the performance of healthcare REITs with positive returns of 1.8%, 1.5%, and 1.5%, respectively. Due to the aging Baby Boomer population, US demographic trends are favoring the healthcare sector. The below graph shows the estimated population growth rate of the US in the coming years.
Article continues below advertisement
High demand market
WellTower (HCN) is the largest REIT specializing in healthcare properties. With the senior citizen population expected to grow at a rapid pace in the coming years, it is likely that there will be plenty of growth when it comes to senior housing and post-care properties. Securities like HCP (HCP), which invests in healthcare buildings, might also see growth from this increasing population. Dividends are valuable to investors, as they give a sense of security regarding the stability and the future performance of the company.
The graph below shows the steady growth in dividend distribution for WellTower (HCN) over the past few years.
Among the various groups competing for in-demand senior housing assets, real estate companies such as the above companies appear to have an added advantage over the others.