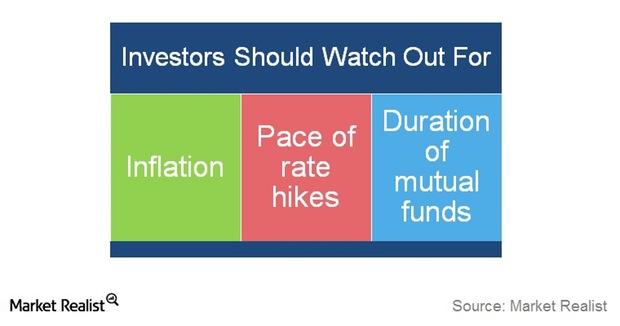 Fixed-Income Mutual Fund Investing in 2016
By David Ashworth

Nov. 20 2020, Updated 11:10 a.m. ET
Bond investing in 2016
Throughout this series, one key point has emerged: Whatever happens, bond investing in 2016 will be interesting.
For those investors who intend to hold bonds to maturity, things are never too interesting, because the coupon will continue to be promised. However, they also won't have to worry about losses in a rising interest rate environment, because they won't have to worry about selling.
For all others looking to profit from the changing interest rate environment, things will be far from ho-hum.
Article continues below advertisement
Fixed-income mutual funds
Investors from the retail segment typically have exposure to bonds via fixed-income mutual funds. We discussed investment managers' views on fixed-income investing in 2016 earlier in this series. Investors should keep in mind the following three factors while rebalancing their fixed-income mutual fund portfolios:
Inflation
Pace of rate hikes
Duration of their fixed-income mutual funds
In a rising interest rate environment, fixed-income mutual fund portfolios with short durations see higher inflows, as this segment is expected to do well. This is because longer-duration bonds (PRULX) witness a much higher reinvestment risk than their shorter-maturity peers (OPGVX). However, if inflation does not rise much, resulting into a flatter yield curve, then longer-maturity bonds can still play active roles.
In the case that energy prices stabilize and import prices rise, inflation will move upward. Investors would be well advised to invest in inflation-protected mutual funds (VIPSX) in such a scenario.
Inflation will determine, for the most part, the number of rate hikes in 2016. This could result in fund managers' changing the durations of their portfolios, depending upon their investment mandates.
Floating-rate bonds and associated mutual funds (EVBLX) (SFRAX) could see some activity in the year. The businesses of bank-related companies such as Washington Federal (WAFD), BankUnited (BKU), and Wintrust Financial (WTFC) could also be impacted by changes in interest rates.
To keep an eye on the situation in the fixed-income markets in 2016, visit Market Realist's Mutual Funds page.