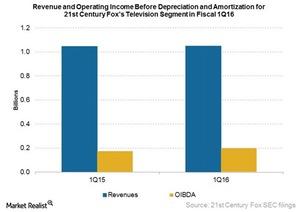 Filmed Entertainment Segment Expected to Be a Hit in Fiscal 2016
By Shirley Pelts

Aug. 18 2020, Updated 6:33 a.m. ET
The Revenant a hit for 21st Century Fox
On January 24, 2016, Benzinga cited weekend box office estimates worldwide from Rentrak (RENT), noting that 21st Century Fox's (FOXA) The Revenant was estimated to have weekend box office collections of $49.8 million globally as of the report date. The Revenant has also been nominated for multiple Oscars for the upcoming Academy Awards.
Another 21st Century Fox movie that has created quite a buzz is Deadpool, set to be released in February. The company has some major films lined up for fiscal 2016.
Article continues below advertisement
The Filmed Entertainment segment of 21st Century Fox expects to release 23 films in fiscal 2016. The company expects EBITDA (earnings before interest, taxes, depreciation, and amortization) to be $200 million below the fiscal 2015 EBITDA due to foreign exchange fluctuations, as well as the release and pre-release costs associated with these movies.
The company expects the benefit of these movie releases to come through in fiscal 2017. The timing of its theatrical releases strongly impacts the Filmed Entertainment segment's revenues. Another factor that can affect Filmed Entertainment's revenues is the scheduling of movie releases from other studios.
If the movies from other studios such as Sony Entertainment (SNE) and The Walt Disney Company (DIS) do well, this could affect the revenues of 21st Century Fox's Filmed Entertainment segment.
Television segment
As the above chart indicates, the Television segment had relatively flat revenues of $1 billion in fiscal 1Q16 and contributed 28% to 21st Century Fox's total revenues. Segment OIBDA was $196 million, or $0.2 billion, in fiscal 1Q16. The company expects a double-digit gain in retransmission consent revenues in fiscal 2016. Advertising revenues are expected to be more or less flat in fiscal 2016.
The company expects higher Television segment expenses due to substantial costs for sports telecasting rights and higher marketing expenses. These marketing costs are related to the premieres of ten new series scheduled for the Fox network. The company is optimistic about increasing advertising revenues through better monetization of its programming across linear networks and nonlinear platforms such as Hulu.
Twenty-First Century Fox makes up 0.19% of the iShares S&P 500 Index ETF (IVV).