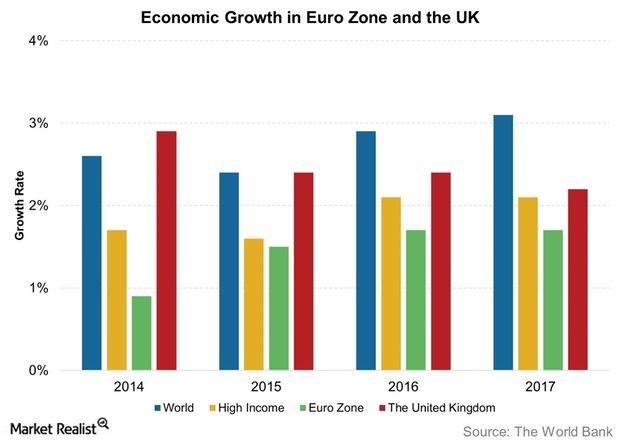 The Eurozone Economy in 2016 and Beyond: World Bank Projections
By David Ashworth

Nov. 20 2020, Updated 4:52 p.m. ET
the Eurozone's economic growth
The World Bank estimated that economic growth in the Eurozone rose by 1.5% in 2015, primarily driven by a rise in domestic demand and exports. The Bank said that economic activity strengthened in Spain, disappointed in Germany, and lagged in France and Italy. Monetary easing by the ECB (European Central Bank) helped in easing credit conditions and led to credit growth in some countries.
Inflation remains a concern for the Eurozone. The World Bank said that though deflation concerns have reduced in 2015, they have not gone away completely. This is reflected in the lackluster growth in core inflation and wages, especially in countries with a high rate of long-term unemployment.
Though the World Bank expects conditions to improve in the Eurozone in 2016, it remains concerned about "low potential growth, high unemployment, and large public debt."
Article continues below advertisement
Your investment in the Eurozone
BlackRock is positive about European equities for 2016. Meanwhile, it feels that US equities are fully valued. If you subscribe to this viewpoint, you can consider reallocating some of your US equity investment to European equities via mutual funds like the Brown Advisory WMC Strategic European Equity Fund – Investor Shares (BIAHX) and the T. Rowe Price European Stock Fund (PRESX), among many others. T. Rowe Price is invested into stocks like Royal Dutch Shell (RDS.B), Nestlé S.A. (NSRGY), and Novartis AG (NVS).
Investors should be cautious about the migrant crisis, though. In the short-term, it can cause a strain on government finances. However, given the handling of the situation, it can provide the Eurozone with a much-needed labor force as the region ages.
Inflation is going to determine whether the region requires another booster shot in the form of monetary stimulus by the ECB. Investors should also keep an eye on the United Kingdom. The country's economy is expected to do well, and investors who are confident about the country's fortunes can consider investing directly in the nation's equities (IAFPX), apart from investing in the rest of the Eurozone. Some investment managers expect the Bank of England to raise rates sometime in 2016.
For more analysis on mutual funds, please visit our mutual funds page.