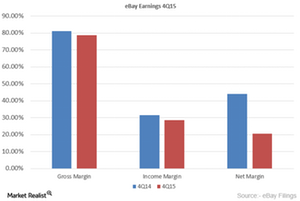 Why eBay's 4Q15 Revenues Had a Negative Impact on Its Bottom Line
By Parker Thomas

Jan. 29 2016, Updated 5:50 p.m. ET
Cost and expenses drove eBay's income margin down
In the preceding part of this series, we discussed eBay's 4Q15 earnings highlights, its revenue drivers, and its outlook for 1Q16. In this part, let's take a closer look at the company's financials.
In 4Q15, eBay (EBAY) generated revenues of $2.3 billion, which is flat compared to 4Q14. As we discussed in our previous article, the company's Marketplace division controls the majority of its online transactions, and this division's growth declined by one percentage point. In turn, this impacted the company's top line as well as its bottom line. For 4Q15, eBay reported a gross margin of 78.8% compared to 80.8% from the same quarter the previous year, which represents a decline of 2.0 percentage points. This decline came from the rising cost of revenues, the margin of which increased by 2.2 percentage points YoY (year-over-year).
Article continues below advertisement
The company's 4Q15 operating expense margin came in at 50.3%, compared to 49.5% in 4Q14, which represents a marginal increase of 75 basis points. The majority of this increase came from the company's general & administrative expenses. However, the costs incurred for sales and marketing and for product development declined during 4Q15.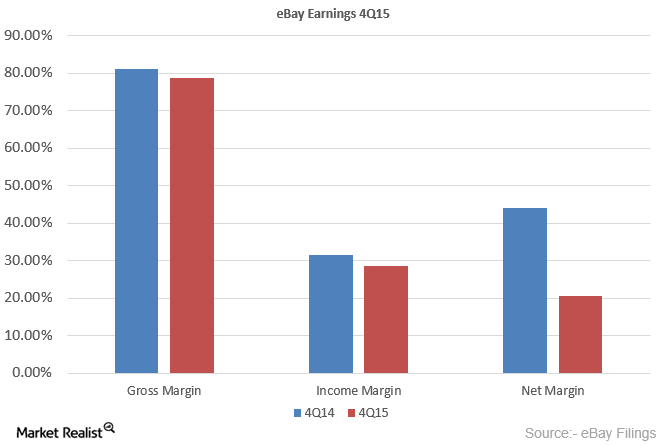 Huge debt for eBay: $6.7 billion
The rising cost and expenses had a negative impact on eBay's income margin, which came in at just over 28.5% compared to the previous quarter of 31.5%, representing a decline of 3 percentage points. The company's balance sheet reflects a long-term debt of $6.7 billion, for which eBay paid an interest of $12 million in 4Q15.
Apart from this, the company also made a provision for taxes of around $127 million. As a result, these expenses affected the company's bottom line, which declined from $1 billion in 4Q14 to $477 million in 4Q15, representing a decline of 53.4%. The company's diluted EPS (earnings per share) came in at $0.39 in 4Q15 compared to $0.82 in 4Q14.
Article continues below advertisement
Cash flow analysis for eBay in 4Q15
In 4Q15, eBay's cash flows from operating activities came in at $1.1 billion compared to $838 million during the same quarter previous year, representing an increase of 34%. The majority of the company's cash flows came from tax benefits and non-cash expenses. In 4Q15, eBay repurchased approximately $550 million of its own common stock, or 19.9 million shares, in order to make its EPS decline less severe.
Apart from this, eBay made a debt repayment of $600 million during 4Q15, which reflects net cash flows from financing activities of -$1.2 billion. Moreover, eBay's free cash flows from continuing operations came in at $1.0 billion in 4Q15, compared to $638 million in 4Q14.
Peers and ETF exposure
The PowerShares NASDAQ Internet Portfolio (PNQI) is a portfolio of 94 stocks, of which the top four stocks—Amazon.com (AMZN), Alphabet (GOOG), Facebook (FB), and Netflix (NFLX)—make up 9.1%, 8.7%, 8.3%, and 7.5%, respectively.
Continue to the next and final part of this series for our discussion of the latest analyst recommendations for eBay.