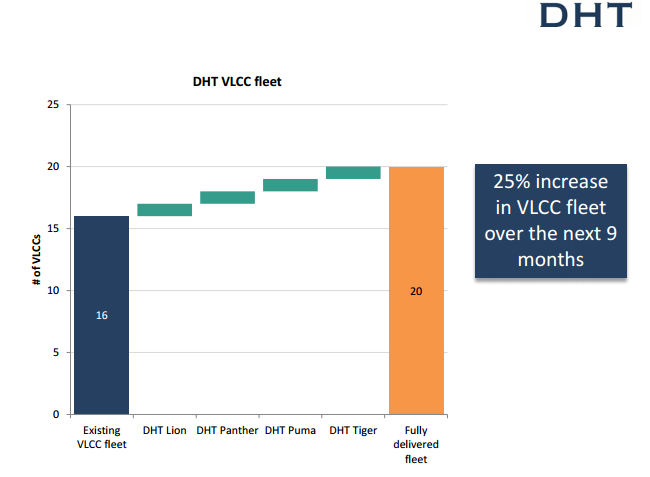 DHT Holdings' Fleet: What to Look for in Its 4Q15 Earnings
By Sue Goodridge

Jan. 25 2016, Updated 4:05 p.m. ET
DHT's fleet
DHT Holdings (DHT) currently has a fleet of 16 VLCCs (very large crude carriers), one Suezmax, and two Aframax. In addition to this, the company has four VLCCs in its pipeline, which will be delivered in 2016. With this, the company's VLCC fleet will increase from 16 to 20, a 25% increase in the next nine months.
Investors can view the fleet profile for Euronav (EURN), Teekay Tankers (TNK), Tsakos Energy Navigation (TNP), and Nordic American Tanker (NAT) in Tanker Fleet Mixes and Their Effects on Company Performance.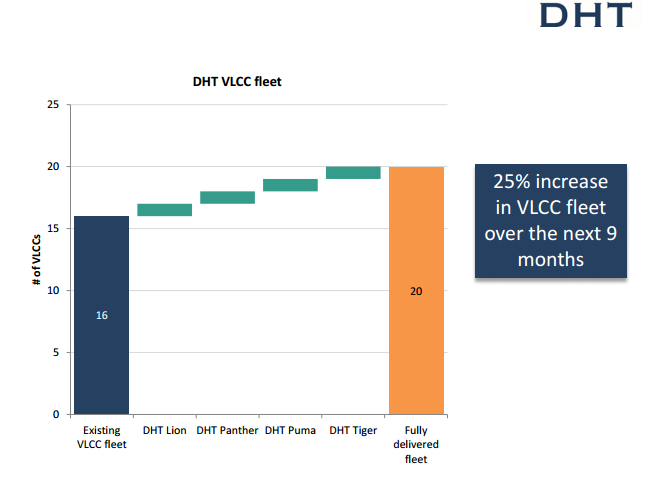 Article continues below advertisement
DHT's strategy
DHT Holdings buys and sells vessels at different times according to the industry cycle. The company employs a strategy of buying new vessels when the industry is in a trough phase and selling its older vessels when the industry is in a high phase.
DHT's sale of Suezmax
In the current crude (DBO) tanker industry phase, which DHT calls the "high phase," it sold a Suezmax it built in 2000 in 4Q15. It sold the Suezmax for $26.5 million. In connection with the transaction, the company will record a book loss of $0.8 million in 4Q15.
Second-hand transactions
In DHT's upcoming 4Q15 results, it's important to look at its plans regarding any further sale of its vessels. Due to strong tanker rates, demand for second-hand vessels has remained strong. The current average second-hand price for vessels is 8% up compared to prices one year ago.
After the recent Suezmax sale, the company has only one Suezmax in its fleet. The company's expansion has only been in the VLCC segment. There is a possibility that it will sell its small tankers in the coming years and will concentrate only on its VLCC segment.