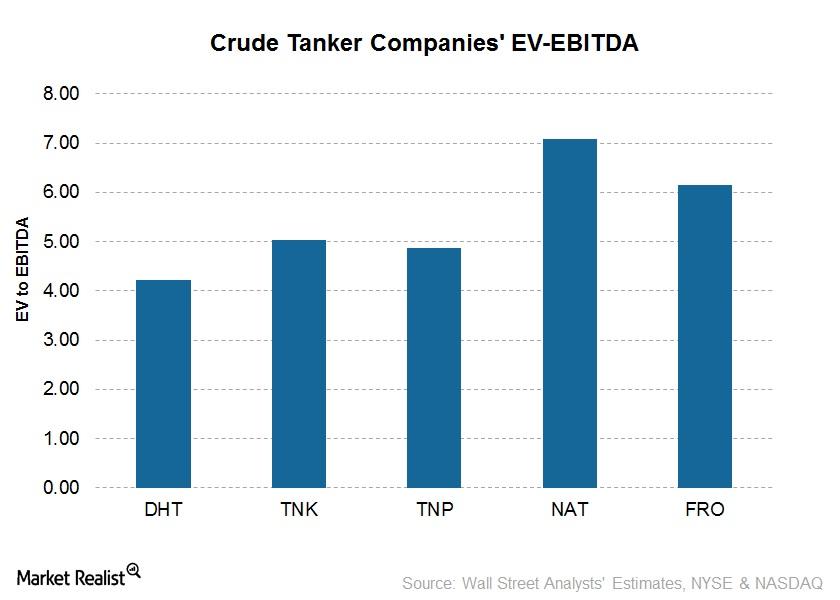 What Does DHT Holdings' Current Valuation Tell Us?
Valuation multiple
The forward EV-to-EBITDA (enterprise value to earnings before interest, taxes, depreciation, and amortization) valuation multiple is used to value and compare crude tanker companies. The EV-to-EBITDA multiple for DHT Holdings (DHT) is 4.26 as of January 22, 2016.
Article continues below advertisement
Why EV-to-EBITDA?
Crude (DBO) tanker companies are cyclical and volatile in nature. These companies are capital-intensive, with high levels of depreciation and amortization. Also, these companies have varying degrees of financial leverage. Such companies are better valued and compared using an EV-to-EBITDA multiple.
A forward EV-to-EBITDA multiple tells us how a company is valued for each dollar of EBITDA that it's expected to earn. A lower ratio may indicate that a company is undervalued, but not always.
Past comparison
DHT is currently trading below its average one-year multiple. Its average EV-to-EBITDA for the past one year is 6.16x, whereas its highest and lowest multiples in the last year were 9.38x and 4.07x, respectively.
Generally, low valuation multiples follow stock rebounds. If analysts' estimates for EBITDA are considered to be at an appropriate level, DHT Holdings' valuation multiple indicates good times ahead for investors.
Peer comparison
DHT Holdings, which is trading at 4.26, has the lowest multiple among its peers. The following are the EV-to-EBITDA multiples of DHT's peers:
DHT Holdings has a strong balance sheet with a good mix of spot and fixed exposure. It has an EBITDA margin of 59%, which is lower than NAT but higher than those of its other peers.
DHT's tankers are relatively young, and it's expanding its fleet. Despite these factors, investors have given it a lower valuation, most likely due to its convertible debt.