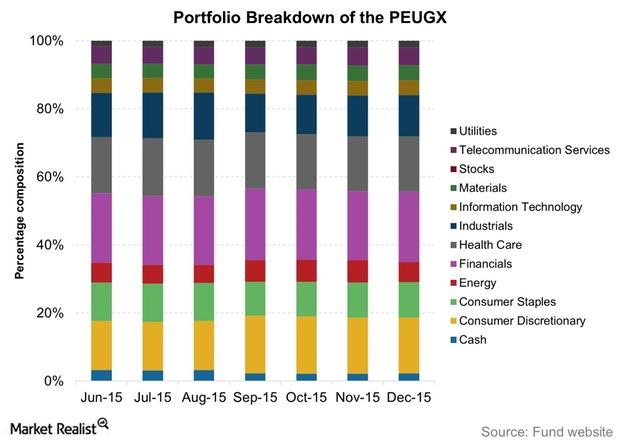 A Breakdown of the Putnam Europe Equity Fund's Holdings in 2015
By David Ashworth

Jan. 25 2016, Published 4:13 p.m. ET
Putnam Europe Equity Fund
The Putnam Europe Equity Fund – Class A (PEUGX) invests "in established large and midsize companies across Europe that benefit from the region's economy and from operations in global markets." The fund literature states that it invests in growth or value stocks.
Fundamental research forms the backbone of the fund's investment process. It supplements fundamental research by making use of macroeconomic analysis and quantitative tools. The fund manager pursues Putnam's "blend" strategy, under which it can invest into either growth and value stocks. This indicates that it does not have a style bias.
Article continues below advertisement
The fund's assets were spread across 71 holdings as of December 2015, and the fund was managing assets worth $360.9 million. As of December, its top ten equity holdings included TOTAL (TOT), ING Groep (ING), Unilever (UN), AstraZeneca (AZN), and Anheuser-Busch (BUD). These stocks comprised 11.4% of the fund's portfolio.
Historical portfolios
For this analysis, we will be considering holdings as of September 2015, when the fund made available its latest sectoral breakdown. The holdings after September reflect the valuation-driven changes to the portfolio, not the actual holdings. The fund house declares portfolios once a quarter and has yet to release portfolios for December 2015.
The fund invests across all ten GICS (global industry classification standard) sectors. Financials is the only sector that forms over a fifth of the fund's assets. The healthcare and consumer discretionary stocks follow, in that order, and form a combined 28.6% of the portfolio. The consumer staples sector is the only other sector with a portfolio weight in double digits.
In 2015, allocation to consumer staples and industrial sectors was reduced, apart from materials. On the other hand, exposure to healthcare, information technology, and telecom services rose. For the most part, these portfolio moves indicate an increase in defensive bets.
The fund manager has stuck to the fund's energy picks. However, most other sectors have seen a good amount of churn. An example is the financial sector. The fund exited positions in Banco de Sabadell (BNDS) and Banco Bilbao Vizcaya Argentaria (BBVA) while it began a position in Credit Suisse Group AG (CS).
How has the fund's portfolio positioning impacted its returns in 2015? Let's look at that in the next article.