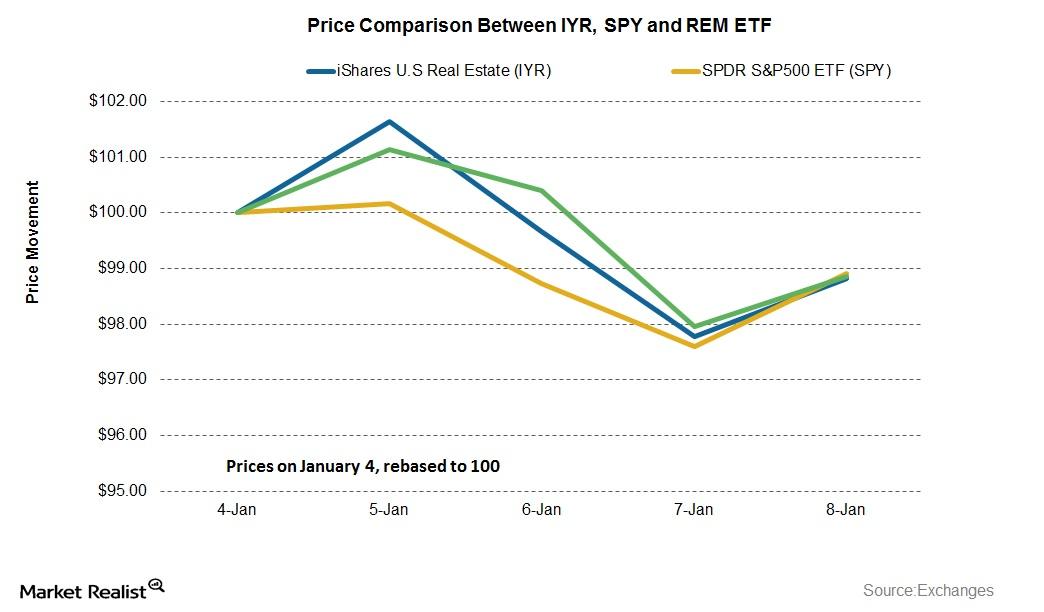 Black Week for REITs, Real Estate Services Performed the Worst
By Steve Sage

Jan. 13 2016, Updated 6:59 a.m. ET
Waiting for January effect
Investors ringed in the new year with new hope and zeal. However, the first full trading week of January proved to be less than stellar. For the week ended January 8, 2016, markets didn't live up to the expectations of the investors. The anticipated January effect of a rise in security prices due to heavy buying that follows the fall in security prices in December didn't see the day of light.
For the week ending, January 8, 2015, the broad-based index, SPDR S&P 500 ETF (SPY), the iShares US Real Estate ETF (IYR), and the iShares Mortgage Real Estate Capped (REM) all came crashing down. SPY, IYR, and REM ended the week with returns of -5.8%, -3.3%, and -1%, respectively.
The graph above represents price movement between IYR, REM, and SPY for the week ending January 8, 2016.
Article continues below advertisement
Winners and losers of the week
Though the week ended January 8, 2016, wasn't fruitful for many investors, a few REITs provided some relief to investors in the volatile market. The top performers of the week were Redwood Trust (RWT), Senior Housing Property Trust (SNH), and Cubesmart (CUBE). These three top performers ended the week with positive returns of 3.7%, 2.4%, and 2.1%, respectively.
On the other hand, Northstar Realty Finance (NRF), CBRE Group (CBG), and St. Joe (JOE) ended the week on the loser board. NRF, CBG, and JOE were the worst performers of the week, with returns of -12.1%, -11.1%, and -10.4%, respectively.
All the subgroups present in the IYR ETF ended the week with negative returns. However, the subgroup comprising of real estate services subgroup performed the worst, with -8.8% returns.