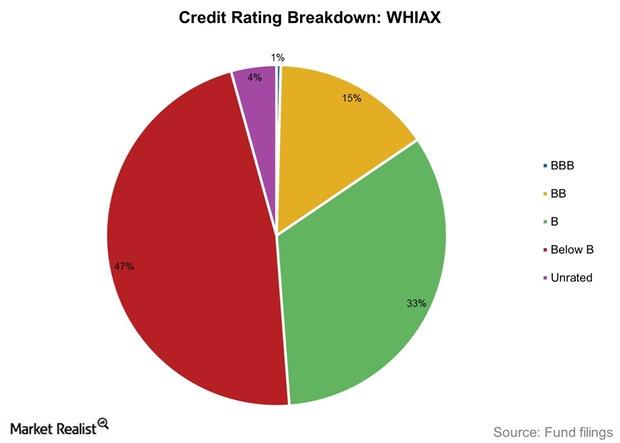 Why WHIAX Shouldn't Face Any Liquidity Trouble
By David Ashworth

Nov. 20 2020, Updated 12:18 p.m. ET
WHIAX: Credit rating breakdown
The Ivy High Income Fund – Class A (WHIAX) is invested in bonds of companies like Lamar Media—a subsidiary of Lamar Advertising (LAMR), Sirius XM Holdings (SIRI), Cable ONE (CABO), and DISH DBS—a subsidiary of Dish Network (DISH), among others.
As of September 2015, the latest available information, 51.2% of its assets were in papers rated below B and unrated papers combined. One-third of the portfolio holdings are rated B. In comparison, just 15% of the assets are invested in BB rated papers.
Given that over half of the fund's portfolio comprises of securities rated below B, including unrated papers) the fund is significantly exposed to that segment of junk bonds. It will be among the first to feel the pressure of tightening liquidity.
Article continues below advertisement
N-Q filing
WHIAX filed its latest N-Q form on August 28, 2015. The information in the filing is as of June 30, 2015. It's a bit dated.
Looking at the overall assets of the fund, 5.7% of its portfolio is invested in securities that are labelled as Level 3. However, this is due to warrants and common stocks. It isn't due to corporate debt securities. While 75.5% of the warrants and 38.7% of common stocks are classified as Level 3, 100% of corporate debt securities are labelled as Level 2.
The fund realized some losses on Level 3 loans. There are some unrealized losses as well.
Investors in WHIAX shouldn't be worried about liquidity trouble as far as corporate debt securities are concerned. Though most of the warrants and some of the stocks held by the fund are quite illiquid, junk bonds aren't in the same state.
Overall assessment
WHIAX shouldn't face any liquidity trouble if the situation for junk bonds doesn't get worse. However, over half of its assets are invested deep into junk territory. This could be a concern if investors continue to flee junk bonds as 2016. In that case, investors in the fund may need to relook at their investment.
Next, we'll look at the Fidelity High Income Fund (SPHIX).