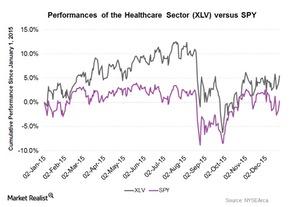 Valeant and Pfizer Kept Healthcare in the Limelight
By Renee Blakely

Updated
Healthcare sector
After the consumer discretionary sector, the healthcare sector was the best performing component sector of the SPDR S&P 500 ETF (SPY) in 2015. The Health Care Select Sector SPDR ETF (XLV) fetched 5.9% year-to-date returns as of December 23. The following graph compares the performances of XLV and SPY since January 2015.

From the graph, we get to see that the healthcare sector outperformed the broad market movement. These sectors have biotech stocks that are highly volatile. The values of beta–the measure of sensitivity–range from 0.73 to 1.48 for these stocks, including stocks of drug manufacturers, healthcare service providers, drug retailers, suppliers, and distributors.
The healthcare sector was weighed down by the controversy surrounding Valeant Pharmaceuticals (VRX) and its accounting practices. Read Why Valeant Pharmaceuticals Weighed Down the Healthcare Sector for more.
The stocks of Valeant Pharmaceuticals (VRX) were battered in October 2015 when Citron Research accused the company of shipping its products to a subsidiary and claiming false revenues. Although the allegations proved to be false, the news created a sell-off in the healthcare sector.
Later, the sector was impacted when Hillary Clinton, candidate for the 2016 presidential election, tweeted about price gouging in the healthcare sector. This political attention hugely impacted biotechnology stocks, but the sector soon rebounded by the news of mergers and acquisitions.
In November, Pfizer (PFE) and Allergan (AGN) confirmed their merger deal to form the world's biggest drug company by sales. This was the largest deal of 2015 and was valued at $160 billion. Read Pfizer and Allergan: Possibly the Largest Merger for more details.
The news boosted many biotechnology stocks. The top healthcare stocks Cigna (CI), Boston Scientific (BSX), Carefusion (CFN), HOSPIRA (HSP), and Actavis (ACT) yielded 40.8%, 43.5%, 54.4%, 81.1%, and 43.6%, respectively, from the trailing one-year to December 23, 2015.
Article continues below advertisement
Outlook for 2016
The healthcare sector could continue to remain an attractive investment avenue in 2016. Many drug companies are researching and developing life-saving drugs. Also, this is the only sector where the top line has displayed growth in every quarter of 2015.