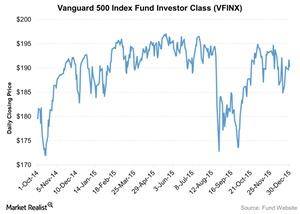 US Stock Indices Remain Mixed as Oil Prices Fell during the Last Week of 2015
US stock indices were mixed
Among the indices we review in this weekly series, two US equity indices rose while one equity index fell between December 23 to December 30, 2015. And it should come as no big surprise that oil prices dictated these movements.
The S&P 500 index, tracked by the Vanguard 500 Index Fund Investor Class (VFINX) fell by 0.02% this week while the Dow Jones Industrial Average (DJIA) rose by 0.01%, remaining below the psychologically important 18,000 level. Meanwhile, the NASDAQ rose by 0.4%.
Article continues below advertisement
Reading the economic indicators
Marc Faber of the Gloom, Boom & Doom Report, said in an interview that he believes we're "already entering a recession in the United States, and US stocks will fall in 2016." Faber is of the opinion that US economy was not strong enough to withstand the latest interest rate hike, which the Fed announced on December 16, 2015.
Still, new home sales rose 4.3% in November to a seasonally adjusted annual rate of 490,000 units, though October sales were revised sharply down to 470,000 units from 495,000 units, and pending home sales dipped 0.9% in November.
Meanwhile, durable goods orders remained unchanged in November after a 2.9% increase in October, mainly due to an appreciating dollar, and the PCE (core consumption personal expenditure) index—the Fed's preferred inflation measure of domestic inflation—rose to 1.4% quarter-on-quarter in 3Q15.
Corporate news and the junk bond scene
The shares of Pep Boys-Manny Moe &Jack (PBY) jumped after Carl Icahn, business tycoon and founder of Icahn Enterprises, raised his offer to $1 billion. Shares of Willis Group Holding (WSH) and Towers Watson & Company (TW) also rose after the announcement of their merger.
Junk bond yields rose between December 17 to December 24 by four basis points, ending the week of Christmas at approximately 8.8% on December 24, 2015. Due to this rise in yields, weekly returns of mutual funds investing in junk bonds like the American Funds American High-Income Trust Class A (AHITX) and the T. Rowe Price High Yield Fund Advisor Class (PAHIX) fell during the week ending December 24.
Why you should keep reading this series
In this series, we'll cover some crucial developments in the primary and secondary markets for high-yield debt and leveraged loans at the end of the year. Let's begin with developments in the high-yield primary market issuance during the final week of 2015.