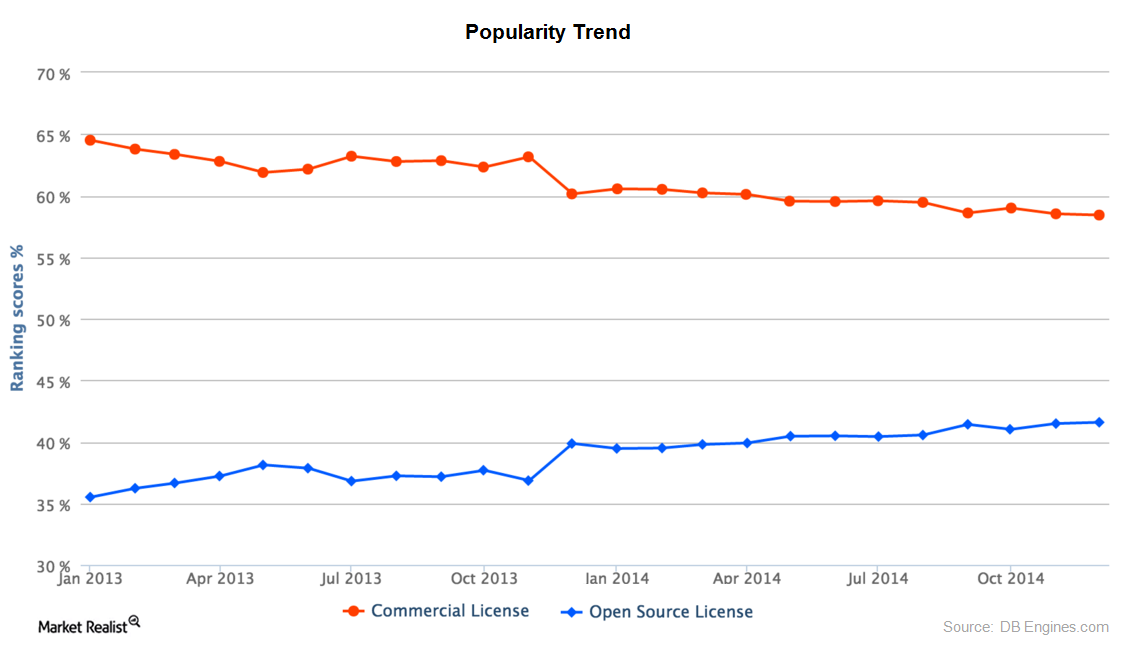 StackEngine: Oracle's Recent Cloud Acquisition
By Anne Shields

Nov. 20 2020, Updated 3:54 p.m. ET
Oracle acquired StackEngine, a docker container startup
Previously in this series, we looked at recent acquisitions by Salesforce.com (CRM) and Microsoft (MSFT) in the cloud and Big Data space. Oracle (ORCL) also joined this bandwagon and announced the acquisition of StackEngine on December 18, 2015. Although Oracle hasn't divulged any financial details about the StackEngine deal, relevant SEC (U.S. Securities and Exchange Commission) filings indicate that the company paid $1.3 million for StackEngine's employee stock options and equity.
Founded in 2014, StackEngine is a container-oriented startup that develops management and automation tools for Docker containers. Docker is an open-source container software project. To date, StackEngine has raised $4.5 million.
Article continues below advertisement
Why Docker is attracting interest
Docker is an open-source software that works on container technology. It enables software developers to construct, test, and deploy software and package together the essential components that are required to make an app (application) or container work quickly. Companies can then send that app or container to servers in the cloud or corporate data centers anywhere in the world for wider deployment.
As a result, the Docker container technology has taken the IT (Information Technology) industry by storm. Leading technology players such as Amazon (AMZN), Google (GOOG), and Microsoft (MSFT) have embraced it.
Open-source software space is attracting a lot of interest
Microsoft, which has shown a reluctance in the past to support the open-source software movement, has changed its strategy. With its Windows 10 announcement in January 2015, Microsoft made explicit references to the makers and developers who build hardware and software for everybody. Its recent acquisition of Metanautix is another step in this regard.
According to DB-Engines and as the above graph shows, closed-source databases such as Oracle, Microsoft SQL, and IBM DB2 are still  popular. But open-source databases are experiencing the fastest growth.
To know more about IBM's interest in open source, please read With the StrongLoop Buyout, IBM Continues to Focus on Open Source. Although migration to open-source technology by enterprises is in the infancy stage, it's catching up fast.
You can consider investing in the Vanguard Growth ETF (VUG) to gain exposure to the Salesforce.com. VUG has an exposure of ~12% to application software and invests ~0.55% of its holdings in Salesforce.com.