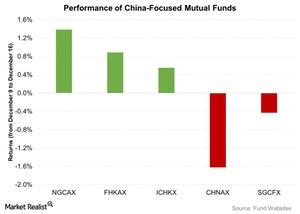 The SSE Composite Index's Performance since the Fed Rate Hike
By Lynn Noah

Nov. 20 2020, Updated 4:50 p.m. ET
Shanghai Stock Exchange (SSE) Composite Index rose
The SSE Composite Index rose after the US Federal Reserve decided to raise the interest rate by 25 basis points for the first time since June 2006. The decision put an end to many months of speculation. From December 9–16, 2015, the SSE Composite Index rose 1.3% and closed at 3,516.2 points on December 16.
On December 16, the People's Bank of China (or PBoC) released China's Macroeconomic Outlook report for 2016. The report highlighted that China's economic growth is expected to be 6.9% in 2015 and 6.8% in 2016. The report also indicated that China's real estate market would stabilize next year, which would lead to growth in fixed investment. As a result, shares of real estate firms such as China Vanke (CVKEY), Guangzhou R&F Properties (GZUHY), and Yuexiu Property (GUAZY) rose sharply.
Article continues below advertisement
FOMC meeting
The Federal Reserve's December 16 announcement of the first interest rate hike in nearly a decade brought the federal funds rate to a 0.25–0.50% range.
Janet Yellen, chair of the Federal Reserve, commented that the US economy has moderately expanded and is expected to continue to do so. The FOMC (Federal Open Market Committee) decided that the modest increase in the federal funds rate is now appropriate. The committee felt that there's room for further improvement in the labor market and expects inflation to rise to the target level of 2% in the medium term as the effect of declining energy prices dissipates.
Return on China-focused mutual funds
From December 9–16, 2015, the Columbia Greater China Fund – Class A (NGCAX) posted the highest return of 1.4%.
The returns of the Fidelity Advisor China Region Fund – Class A (FHKAX) and the Guinness Atkinson China and Hong Kong Fund (ICHKX) came in at 0.9% and 0.6%, respectively.
The Clough China Fund – Class A (CHNAX) turned out to be the worst performer with a return of -1.6% for the same period. The return of the Shelton Greater China (SGCFX) fell by 0.4%.
After a rebound in oil prices, American Depositary Receipts (or ADRs) of Chinese companies such as CNOOC (CEO) fell by 2.7%, while PetroChina (PTR) rose by 0.9% from December 9 to December 16. For the same period, NetEase (NTES) and JD.com (JD) rose by 4.4% and 2.0%, respectively, while Ctrip.com International (CTRP) fell by 1.8%.