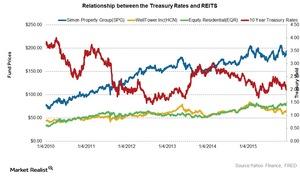 Why Did REITs Rise as the Fed Increased the Rates?
By Steve Sage

Updated
REITs rose as the Fed lifted the rates
An REIT is a company that owns or finances income producing real estate. Mortgage loans and refinancing makes the news related to interest rates very much a part of the REIT environment. On December 16, the iShares US Real Estate ETF (IYR) and the iShares Mortgage Real Estate (REM) closed with positive numbers of 1.9% and 3.4 %, respectively. The SPDR S&P 500 ETF (SPY) rose by 1.4%. Much of the performance was driven by the Fed's decision to increase the policy rates.
The above graph shows the relationship between ten-year Treasury rates and REITs.
Article continues below advertisement
Impact on REITs
It's always beneficial for investors to know how economic factors impact individual securities. This allows investors to determine a portfolio's position. The securities that stood out were Chimera Investment (CIM), NorthStar Realty Finance (NRF), Resource Capital (RSO), and New Residential Investment (NRZ). They had intraday returns of 6.3%, 4.2%, 12.4%, and 8.7%, respectively. IYR's outperforming sectors were retail and healthcare REITs. They ended the session with returns of 2% each. Simon Property Group (SPG), Equity Residential (EQR), and Welltower (HCN) ended the session with returns of 1.9%, 1.9%, and 2.5%, respectively. Although it's early to say what impact each subgroup will have after the hike in the interest rate, a few things can be estimated.
Residential REITs derive their revenue from rentals and apartment sales. Rising rates could increase the borrowing cost for investors. It could cause the asset's value to fall.
Healthcare REITs use rented facilities. A hike in the interest rate will increase the borrowing cost. This will lead to difficulty when entering into long-term rent agreements.
Retail REITs could be impacted. A rise in the interest rates could dent consumer spending. This would hurt the sector's total revenue.