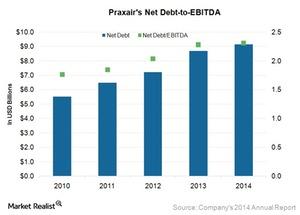 Does Praxair Have Higher Leverage than Its Peers?
By Steve Ariel

Dec. 4 2020, Updated 10:53 a.m. ET
Significant improvement
Praxair's (PX) net debt-to-EBITDA (earnings before interest, tax, depreciation, and amortization) ratio increased significantly from 1.8x in 2010 to 2.3x in 2014 due to the drastic increase in its total debt. It was partially offset by improved adjusted EBITDA. Praxair's total debt has increased significantly, from $6.6 billion in 2011 to $9.3 billion in 2014. With its strong operating performance, Praxair's adjusted EBITDA increased to $4.0 billion in 2014 from $3.1 billion in 2010. As of September 30, 2015, Praxair had the net debt of $9.4 billion, increased from $9.1 billion in 2014. With increased net debt, the company's net debt-to-EBITDA ratio rose further to 2.5x in the third quarter of 2015.
Article continues below advertisement
Higher leverage than peers
Praxair is highly leveraged in comparison with its closest peers, Airgas (ARG) and Air Products and Chemicals (APD). Airgas had a total debt of around $2 billion in 2014, with a net debt-to-EBITDA ratio of 2.1x. Air Products and Chemicals had a higher total debt of $6 billion in 2014, with a relatively better net debt-to-EBITDA ratio of 2.0x. Major chemical players such as The Dow Chemical Company (DOW) and DuPont (DD) had lower net debt-to-EBITDA ratios of 1.6x and 1.9x, respectively, compared with Praxair's 2.3x in 2014. Overall, Praxair has significantly increased its leverage over the last five years.
Praxair's leverage outlook
Praxair has, on average, invested $1.5 billion for capacity expansion over the last five years. The company invests in building plants at customers' facilities along with other capex plans such as pipeline expansion and maintenance. Therefore, the company has to invest consistently. So far, in 2015, the company has reached a total capex of $1.1 billion and is expected to cross $1.5 billion in this financial year. With consistent capex requirements and higher cash returns to shareholders, Praxair's leverage is expected to remain at a higher level than its peers' in the near future.
Investors can invest in the iShares US Basic Materials ETF (IYM) to get exposure to the US chemical industry. IYM invests in most of the US chemical companies. DuPont forms 11% of IYM's total holdings.