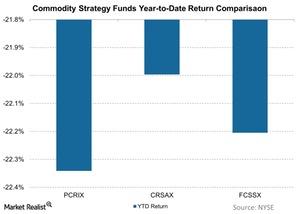 A Must-Read Structural Overview of Alternative Fund PCRIX
By Ivan Kading

Nov. 20 2020, Updated 12:47 p.m. ET
Commodity market slump
Commodity markets have tumbled by an average of 25% in 2015 due to slowing demand in the Asian market. According to Reuters, investment in the energy and commodity sectors rose largely because of rising output, which incurred losses caused partly by a slowdown in China, the world's biggest consumer of metals.
Commodities are assets that have tangible properties, such as oil, metals, and agricultural products. In this series, we'll study the effects of the falling commodity markets on alternative funds based on commodity strategies such as the PIMCO Commodity Real Return Strategy Fund (PCRIX), the Credit Suisse Commodity Return Strategy Fund (CRSAX), and others.
Alternative funds are mutual funds that make use of prominent hedge fund strategies for investment purposes. The graph above compares the year-to-date (or YTD) performances of PCRIX, CRSAX, and the Fidelity Series Commodity Strategy Fund (FCSSX).
Article continues below advertisement
Performance comparison
All the three alternative funds PCRIX, CRSAX, and FCSSX manage large portfolios of $5.6 billion, $4.1 billion, and $1.5 billion, respectively, trading in the S&P 500 (SPY). All three funds have given negative YTD returns due to the weak commodity market environment.
PCRIX has been affected the most, as it has fallen by 22.3% this year compared to CRSAC and FCSSX, which have shown negative YTD returns of 22.0% and 22.2%, respectively.
Dividend yield
As with any mutual funds, dividend yield plays a significant role in the overall demand and performance of these alternative funds. The dividend yields of PCRIX, CRSAX, and FCSSX are 3.9%, 2.1%, and 2.4%, respectively. The average dividend yield of these alternative commodity mutual funds is 2.9%, which is on the higher side compared to other asset classes.
The significant holdings of PCRIX include Citigroup (C), Hewlett-Packard (HPQ), Bank of America (BAC), J.P. Morgan Securities (JPM), and commodity-linked derivative contracts.
In the next part of the series, we'll compare the performance of PCRIX with respect to broader indexes.