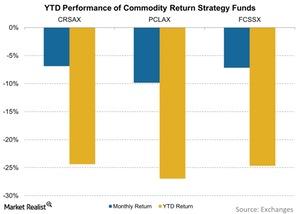 A Must-Read Structural Analysis of Alternative Mutual Fund CRSAX
By Ivan Kading

Nov. 20 2020, Updated 1:45 p.m. ET
Hedge fund's strategy using fund
Commodity return strategy is a popular hedge fund strategy that helps to provide commodity market exposure to retail investors. This strategy invests in derivative instruments of various commodities such as oil, metals, and agricultural products.
Various alternative mutual funds such as the Credit Suisse Commodity Return Strategy Fund (CRSAX), the PIMCO Commodities PLUS Strategy Fund (PCLAX), and the Fidelity Series Commodity Strategy Fund (FCSSX) use commodity strategy to achieve their investment objectives.
The graph above compares the year-to-date (or YTD) and one-month returns of the CRSAX, PCLAX, and FCSSX as of December 9, 2015, in the market (VFINX).
Article continues below advertisement
Commodity strategy fund performance comparison
Commodity markets in the United States have suffered this year due to a slowing Chinese economy. It can be observed from the graph above that all three commodity funds have fallen considerably.
Even trailing-one-month returns are negative. Monthly returns of CRSAX, PCLAX, and FCSSX are -6.9%, -9.8%, and -1.2%, respectively. Commodity markets, especially in the metal and energy sectors, are on a downward trend and are showing no signs of a reversal.
On December 1, 2015, Orion's CIO (chief information officer) Oskar Lewnowski stated at the Mines and Money conference in London, "$1.8 a pound ($3,968 a ton) for copper is likely…I don't think we are going to see much relief until 2018." Copper is currently trading at $2 per pound.
Portfolio holdings
CRSAX has exposure to the commodity market through various derivative futures and swap contracts of commodities. A quarter of its assets are invested in the Credit Suisse Cayman Commodity Fund I, a wholly owned subsidiary of CRSAX.
In addition, the fund portfolio also consists of fixed-income securities that serve as collateral for the derivative position of the fund. The fund's portfolio consists of commodity-indexed, structured notes of BNP Paribas (BNP) and Deutsche Bank (DB) among its holdings.
The fund also has short-term time deposits in State Street (STT). It also consists of US agency obligations of the Federal National Mortgage Association (FNMA) and the Federal Home Loan Mortgage Corporation (FMCC), among others.
In the next part of the series, we'll compare the YTD performance of CRSAX with the market S&P 500.