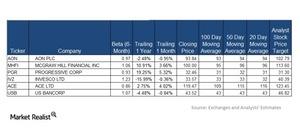 McGraw Hill Financial Surged 2.6% as Financial Services Rebounded
Financial services sector
The financial services sector, represented by the Financial Services Select Sector SPDR (XLFS), rebounded 1.1% on Tuesday, December 29, after Monday's plunge, which followed its four-day rally last week. The anticipation of a "gradual" rise in the interest rates have made the financial sector and the financial services sector less attractive recently. However, the likelihood of other sources of incomes in the financial services sector using fees, financing activities, brokerages, and trading commissions seem to be a good investment avenue.
Article continues below advertisement
Moving average analysis
The above table presents the closing prices of the financial services stocks along with their respective moving average values.
The yields of the above stocks are as follows:
The beta values of the above stocks are generally confined to one except for Invesco (IVZ) wherein the value is 1.23, implying that the stock is sensitive to the market movement and is volatile. The trailing-one-year return of the stock, which is -16.0%, is the lowest when compared to the other stocks.
Except for Aon (AON), the closing price of the above stocks is above their respective moving averages. This suggests that the stocks will follow an upward trend in its price movements.
McGraw Hill Financial (MHFI) traded at $100, which was above its moving average values. Its 100-day, 50-day, and 20-day moving average values are $95, $96, and $96, respectively. When compared to the analyst stock price target of $113.60, it implies an upward growth potential of 14%.
When compared to the respective analyst stock price targets, these stocks suggest an average of 8% as an upward growth potential. On an average, these stocks have earned 12 "buy," 11 "hold," and two "sell" recommendations.
In the next article, we'll look at the key stocks of the SPDR S&P 500 ETF (SPY) on the day.