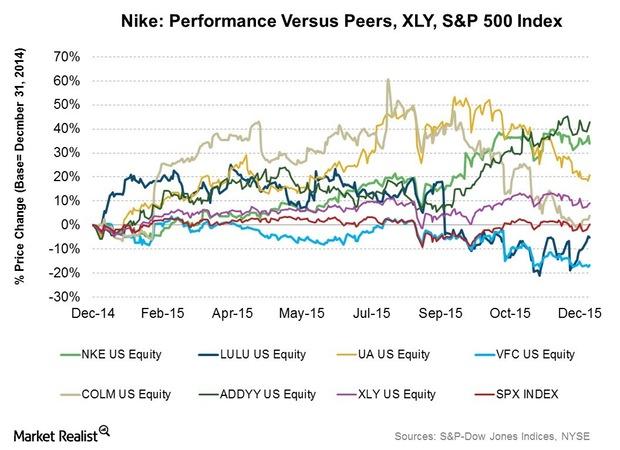 Market Moves Paint a Contradictory Picture of Nike's Performance
By Phalguni Soni

Nov. 20 2020, Updated 3:27 p.m. ET
Stock price reaction to Nike's 2Q16 earnings release
Despite sales in fiscal 2Q16 missing market expectations, Nike's (NKE) stock price rose by 3.4% to an intra-day high of $136.39 on December 23, 2015[1. CNBC, Yahoo Finance], a day after the company reported results. It was a new all-time high. The initial bullish reaction stemmed from the upbeat futures orders reports, higher-than-expected earnings growth, and the upbeat outlook we discussed in parts one and eight of this series. However, at the close, the company's stock had slumped by 2.4% to $128.71. Markets appeared to be affected by lower-than-expected sales and margins downside for the remainder of fiscal 2016.
Article continues below advertisement
Stock repurchases
$652 million worth of stock repurchases in 2Q16 reduced Nike's share count by 5.6 million shares, or 1% of the total diluted share count. This provided both price support and boosted EPS by reducing the number of shares. The repurchases were part of Nike's existing $8 billion stock repurchase program, which Nike plans to replace with another four-year $12 billion program, which was announced last month. Under the current $8 billion program, Nike's repurchased stock is worth $7.2 billion with an average share price of ~$78.19 (prior to the split).
Stock split
As of December 24, Nike's stock would undergo a two-for-one split for both Class A and Class B shares. Nike shareholders would get one additional share for each share held in Nike. This year, Nike's stock price has risen from $96.15 on December 31, 2014, to $128.71 on December 23. The phenomenal rise in its stock price is probably a major reason for the split. An increase in share float at a lower price would bring the stock to a more popular trading range and may boost trading as a result. This is Nike's seventh two-for-one stock split since January 1983.
Governance changes
In June, Nike's competitor Under Armour (UA) announced a 100% stock dividend, which would effectively have the same impact as a two-for-one stock split. Nike and Under Armour had also announced several other changes to the corporate structure. For more on the impact, read our earlier article, Athletic Firms See a Slew of Governance-Related Announcements.
Recently, Lululemon Athletica (LULU) also announced a corporate update.
Nike makes up 5.1% of the portfolio holdings in the SPDR Dow Jones Industrial Average ETF (DIA) and 0.98% of the holdings in the Vanguard Growth ETF (VUG). For more sector updates and analysis, please visit our Consumer Discretionary page.