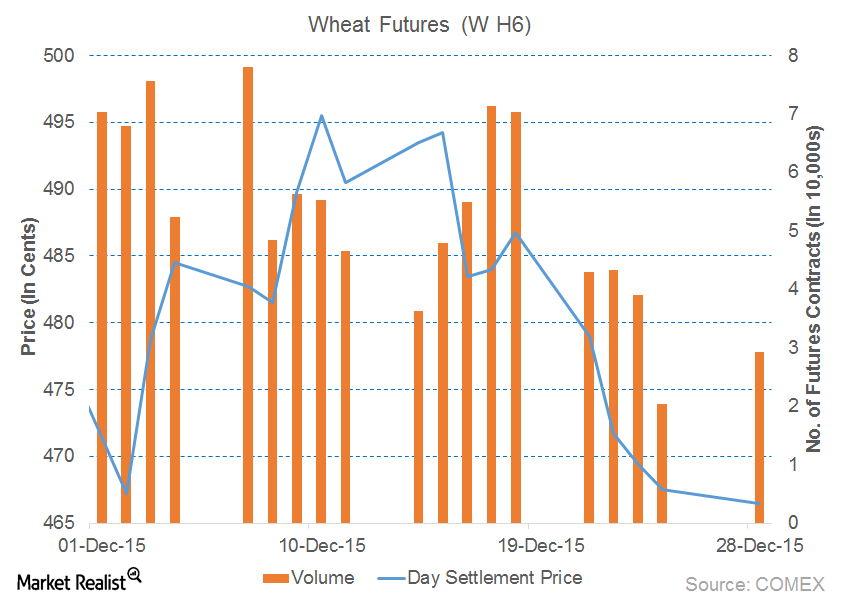 Lower-than-Expected Export Inspections Deter Wheat Prices
Wheat prices fall
Wheat March futures contracts on the Chicago Board of Trade (or CBOT) fell slightly by 0.21% and closed at $4.66 per bushel on December 28, 2015.
Wheat futures prices dropped due to speculation of lower-than-projected export demand based on the U.S. Department of Agriculture's (or USDA) Weekly Wheat Export Inspection Report. The Teucrium Wheat ETF (WEAT) followed the CBOT, falling by 0.33% on December 28, 2015.
Article continues below advertisement
The Weekly Export Inspection Report for wheat from the USDA, released on December 28, 2015, showed 305,000 metric tons. For the week ending December 24, 2015, wheat export inspections were 36.8% lower than the previous week. Year-to-date, wheat export inspections were 13.0% lower than the previous year.
In the grains section, US wheat has been losing its hold on exports against the competition. Lower-than-projected exports suggest lower export demand for US wheat. This pushed wheat prices down on December 28, 2015.
Weather conditions in the US Midwest regions were unfavorable on December 28. A combination of ice, snow, and rain annihilated crops in Missouri, Arkansas, and Central Illinois.
The Southern region of the Great US Plains may be affected by unfavorable stormy weather conditions in next few days. There are threats of flash flooding in the Southern Plains, which could negatively impact wheat output from these regions. Speculation of adverse weather conditions could lead to lower wheat output, which might support wheat futures prices in the near term.
Northwestern US wheat-producing areas are experiencing above average temperatures. This is supportive of wheat production in these regions amid precipitation forecasts satisfying the moisture requirements. The speculation of higher US wheat output could hurt wheat futures prices.
Food companies' stocks
The fall in wheat prices supports the shares of food businesses as their costs of production fall. Prices of Hormel Foods (HRL) and Pilgrim's Pride (PPC) rose slightly by 0.24% and 0.18%, respectively, on December 28, 2015.
Shares of General Mills (GIS) and J. M. Smucker Company (SJM) fell by 0.24% and 0.44%, respectively, on December 28, 2015. The VanEck Vectors Agribusiness ETF (MOO) fell by 0.70% on the day.