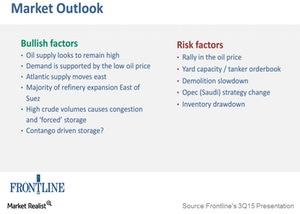 Frontline in 3Q15: Risks and Bullish Factors for Tanker Industry
By Sue Goodridge

Dec. 4 2020, Updated 10:52 a.m. ET
Market outlook
In Frontline's (FRO) 3Q15 conference call, management gave insights on the risks the crude oil (DBO) tanker industry may face in the future. It also shed light on the bullish factors for the tanker industry. This will help investors assess the outlook for Frontline (FRO) as well as Teekay Tankers (TNK), Nordic American Tankers (NAT), Tsakos Energy Navigation (TNP), DHT Holdings (DHT), and Euronav (EURN).
Article continues below advertisement
Risk factors for the tanker industry
Frontline views the orderbook as one of the major concerns for the tanker industry. Currently, the orderbook for VLCCs (very large crude carriers) stands at 17% of the total global VLCC fleet. The orderbook for Suezmax stands at 15% of the total Suezmax fleet. Frontline expects very little scrapping activity in the industry. An increase in fleet supply negatively affects rates. We'll cover the industry orderbook in more detail in later articles in this series.
Currently, Saudi Arabia is increasing its oil production in spite of lower prices in order to defend its market share. Frontline has stated that a change in Saudi Arabia's strategy to cut production to support prices will negatively impact the tanker industry.
Another risk factor Frontline mentioned is that a drawdown in strategic reserves that have been built wordwide, especially in China, can put short-term pressure on the market.
Bullish factors for the tanker industry
The main factor for a bright outlook for the tanker industry is the world oil supply, which is at the highest level ever at 97 million barrels per day. The low price for oil is supporting higher demand, especially in Asia and in Europe and the United States as well.
Oil from the Atlantic Basin, West Africa, and Latin America flows to the East. This increases the ton-mile demand, which is beneficial for the tanker industry.
High crude volume transportation causes delays at ports and terminals. This helps take out capacity and decrease supply, which in turn supports tanker prices.
A high supply of oil leads to unsold cargoes sitting on ships and causing discharge delays. Frontline has coined a term for this: forced storage. The company expects forced storage to remain a positive factor for the industry going forward.
Frontline believes the bullish factors will outweigh the risks. Overall, it expects the tanker market to show strong earnings going forward.