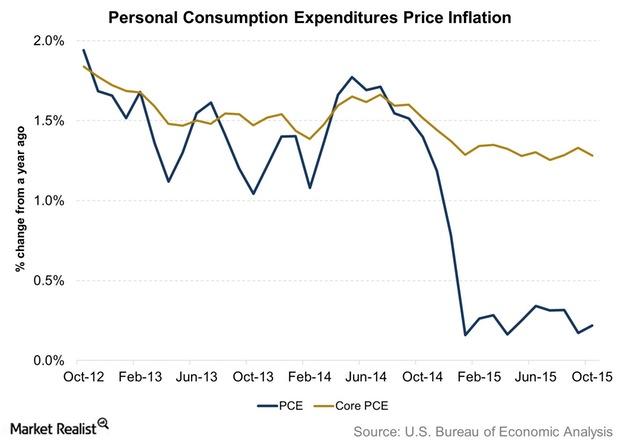 The Fed Will Watch Personal Consumption Expenditures Inflation
By David Ashworth

Dec. 17 2015, Updated 10:49 a.m. ET
PCE inflation
When the Federal Reserve refers to inflation, it's talking about the rate of change in PCE (personal consumption expenditures) inflation. According to the central bank, this indicator is the "most consistent over the longer run with the US Federal Reserve's statutory mandate."
Further, the Federal Reserve has a specified numerical mandate for PCE inflation given to it by Congress. The central bank is expected to maintain PCE inflation at 2% in the long run.
The graph above shows the rates of growth of PCE inflation and core PCE inflation, which exclude the prices of food and fuel. Neither are even close to the mandated 2% level. This was the primary reason that the Fed was unable to hike interest rates prior to December.
Article continues below advertisement
The reasons behind the slow growth
PCE inflation was nearly thrown off a cliff in 2014 as crude oil prices, which hurt Kinder Morgan (KMI), Chevron (CVX), and ConocoPhillips (COP), depressed its growth. There have been a few months where it has seemed like inflation was attempting to get back on a growth trajectory, but a sustained growth pattern is yet to be seen.
Core PCE inflation, which is unaffected by changes in food and fuel prices, has fallen due to a fall in import prices. It's expected that this measure will bounce back as consumers start to spend more and businesses begin to invest further.
Watchful eye
While announcing the December 2015 monetary policy statement, policymakers stated, "Inflation is expected to rise to 2 percent over the medium term as the transitory effects of declines in energy and import prices dissipate and the labor market strengthens further."
Policymakers stated further, "In light of the current shortfall of inflation from 2 percent, the Committee will carefully monitor actual and expected progress toward its inflation goal."
Hence, PCE inflation will be watched closely by policymakers in determining the pace of future rate hikes. Since a rate hike signals an increase in interest rates, investors in fixed income mutual funds such as the PIMCO Total Return A Fund (PTTAX) and the American Century Diversified Bond A Fund (ADFAX) are also advised to track the movement in PCE inflation and inflation expectations closely. A sharper-than-expected rise in inflation would hurt bond prices, and a rebalancing would be apt before inflation rises.
The Fed released a summary of economic projections following its December meeting. Let's look at it in the next article.