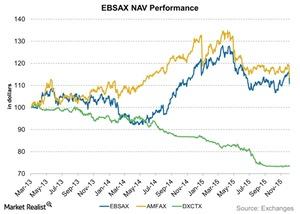 How Has EBSAX Performed in the Market?
By Ivan Kading

Nov. 20 2020, Updated 12:28 p.m. ET
Managed futures
The Equinox Campbell Strategy Fund Class A (EBSAX) is an alternative mutual fund that seeks to achieve its investment objectives by using the "managed futures" strategy. The Natixis ASG Managed Futures Strategy Fund Class A (AMFAX) and the Direxion Indexed Commodity Strategy Fund Class A (DXCTX) use similar alternative managed futures strategies.
7
The above chart presents a performance comparison of the three alternative funds' NAVs (net asset values) since the inception of EBSAX.
Article continues below advertisement
EBSAX's NAV performance
The above graph shows that EBSAX has outperformed the other two alternative mutual funds. AMFAX managed to provide positive returns to its investors, whereas DXCTX has fallen considerably. Class A shares, which only charge a front load, are primarily designed for long-term investment purposes.
EBSAX's holdings
As of November 30, 2015, EBSAX was managing assets worth $1.3 billion and was using approximately 50% leverage on it. The fund is currently managed by Ajay Dravid and Rufus Rankin from Equinox Funds.
EBSAX's portfolio is divided into two parts. The first part of the portfolio mainly contains fixed-income US treasury holdings. The other part of the holdings is indirectly invested into trading companies, consisting of various derivative contracts of equity indexes, currencies, and commodities.
The fund is indirectly invested into equity indexes such as the S&P 500 (VFINX), the Russell 2000, the AEX (Amsterdam Exchange) index, the FTSE (Financial Times Stock Exchange) 100, and others. The Russell 2000 counts Tyler Technologies (TYL), Manhattan Associates (MANH), Anacor Pharmaceuticals (ANAX), CubeSmart (CUBE), and Dyax (DYAX) among its top holdings. In the next part of this series, we study the investment methodology of EBSAX.