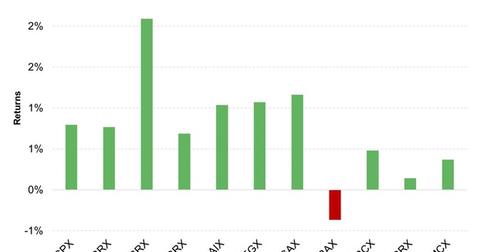 The December 2015 Rate Hike and US Large Cap Equity Mutual Funds
By David Ashworth

Updated
The rate hike is a reality
On December 16, 2015. the FOMC (Federal Open Market Committee), the monetary policy–setting arm of the US Federal Reserve, finally hiked the key federal funds interest rate by 25 basis points to 0.25%–0.50%. This was the first change in the federal fund rate in either direction in seven years and the first hike in 9.5 years.
One of the reasons that the FOMC effected liftoff was that it takes some time for a rate hike to show its impact on the economy. Because policymakers were cautiously optimistic about the US economy, they decided to raise the rates.
Article continues below advertisement
FOMC happy with the economy
The FOMC participants expressed satisfaction with the state of the US economy. The labor market was at its strongest point in some time. The latest non-farm payrolls report showed that 211,000 jobs were added in November, and the additions for October had been revised upward.
Coupled with robust consumer spending, this indicated that more employed people should consume more. This consumption should keep the economy going even in the face of weak exports, which have been subdued by a strong US dollar.
Is inflation the key?
Inflation continued to remain low due to a fall in crude oil prices. This remained a cause of concern for policymakers, but they were hopeful that it will return to its desired trajectory in the medium term, once the effect of falling energy prices dissipates. The FOMC policymakers clarified that they will continue to monitor inflation closely and will give it due consideration for future rate increases.
Financials State Street Corporation (STT), Wells Fargo & Company (WFC), and The Allstate Corporation (ALL) were up after the rate hike announcement.
US large cap equity mutual funds
November was generally favorable for US large cap equity mutual funds, as illustrated in the graph above. In this series, we will take a look at how 11 funds from the US large cap equity mutual funds (VIGRX) universe fared through November 2015.
In an earlier series, we had analyzed how asset classes have performed in a rising interest rate environment. That information, coupled with the portfolio composition of these 11 funds, may help you evaluate their readiness for a rate hike and whether they suit your investment objectives.
We'll begin our analysis with the American Funds AMCAP Fund – Class A (AMCPX).