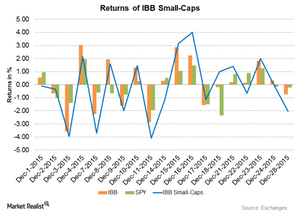 Chimerix Falls 80% following Phase 3 Trial of Brincidofovir
By Peter Neil

Updated
IBB small-caps fall 2.1%
The small-cap stocks of the iShares Nasdaq Biotechnology ETF (IBB) fell by 2.1%, mainly because of the slump in the stock price of Chimerix (CMRX). It underperformed both the fund and the SPDR S&P 500 ETF (SPY).
IBB's small-caps account for ~9.8% of its portfolio. As of December 28, 2015, IBB holds 77 small-cap stocks in its portfolio. IBB's small-caps include stocks such as Sarepta Therapeutics (SRPT), Ironwood Pharmaceuticals (IRWD), and Exelixis (EXEL), which gave returns of -2.3%, -0.45%, and 3.3%, respectively.
The above graph reflects the performances of IBB's small-cap stocks compared with IBB and SPY. From the start of December 2015 until December 28, 2015, IBB's small-caps have returned -2.5%, IBB has returned 1.2%, and SPY has returned -1.5%.
Article continues below advertisement
Chimerix stock plummets 80% on unmet Phase 3 trial of Brincidofovir
Chimerix's stock fell 80% on its disappointing Phase 3 clinical trial of the drug brincidofovir. As per its press release, CMRX announced that the "Phase 3 SUPPRESS trial of Brincidofovir in patients undergoing hematopoietic cell transplantation (HCT) did not achieve its primary endpoint for the prevention of clinically significant cytomegalovirus (CMV) infection through Week 24 after transplant."
The release continued, "During the on-treatment period through week 14 after HCT, fewer patients in the brincidofovir arm had a CMV infection, consistent with the positive antiviral effect of the compound seen in the Phase 2 study. However, during the ten weeks off treatment from week 14 to week 24, there was an increase in CMV infections in the brincidofovir arm compared to the control arm. There was also a non-statistically significant increase in mortality in the brincidofovir arm compared to the control arm."
CMRX closed at $6.62, and its market-cap fell from $1.6 billion to $305 million on December 28, 2015. The stock has a book value of $8.02 and is trading below this value. With its current pricing, CMRX is trading at a price-to-book value of 0.83x. It has a weight of ~0.3% in IBB's portfolio.