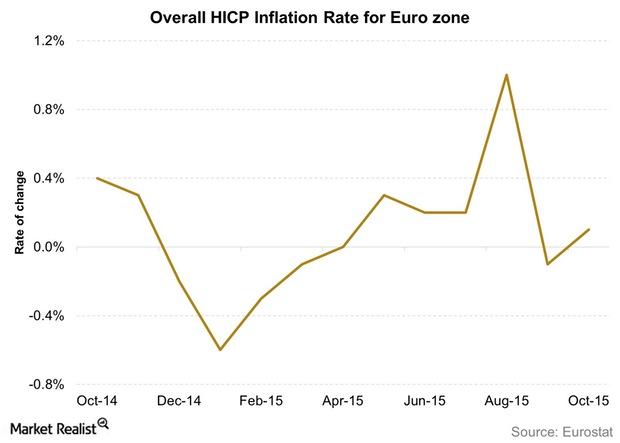 What Can You Do in Regards to Your Europe-Focused Mutual Funds?
By David Ashworth

Nov. 20 2020, Updated 3:55 p.m. ET
Factors to watch out for
Investors should continue to watch developments on inflation in the region. Although Mario Draghi, the president of the ECB (European Central Bank), maintains that the stimulus measures are working, their impact on inflation remains key. The good news is that people are consuming, which has kept food inflation high and has also supported the economy. However, it remains to be seen whether the recent consumption pattern will continue.
Article continues below advertisement
Currency investors were surprised by the euro's reaction. However, it was primarily driven by unfulfilled expectations, rather than some other fundamental factor. Exporters' stocks, such as SAP (SAP), Anheuser-Busch (BUD), and Alcatel-Lucent (ALU), and banking stocks such as Banco Santander (SAN) were hurt for the same reason.
The US dollar is expected to appreciate against its peers if the Federal Reserve goes through with the rate hike in December. However, it may not do so much. If the euro does not appreciably fall against other currency units, exporters will get hurt, which will impact the region's economy.
Geopolitical risks
The refugee crisis in Europe could have an impact on government finances as they build camps to provide shelter, among other facilities. This was just made worse by the terrorist attacks in Paris, which has led to several nations' retaliation against the aggressors. The cost of this retaliation, at this point, remains unquantified. However, it will certainly have an impact, which will increase if tensions escalate.
Europe-focused mutual fund investors
If you're diversifying through Europe-focused mutual funds and are invested in index funds such as the Voya Euro STOXX 50 Index Portfolio – Class A (IDJAX), you probably don't need to do anything.
On the other hand, if you're invested in an actively managed mutual fund, you need to see how your fund manager has performed in uncertain times, for instance, 2008. There's not much need to worry if you're invested in the long term because the macroeconomic picture for the region is not bleak. However, for short-term investors, it may be time to reduce exposure to Europe. For more analysis of mutual funds, visit Market Realist's mutual funds page.