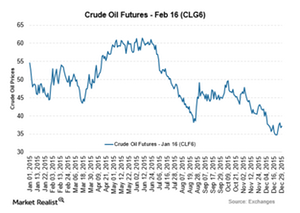 What Can Investors Expect from the US Dollar in 2016?
By David Meyer

Nov. 20 2020, Updated 4:14 p.m. ET
Gains ahead in the US Dollar Index
The US Dollar Index measures the strength of the US dollar against a basket of currencies. It has been exhibiting sideways movement after soaring past 100 in March. It fell below 95 in August. It gathered strength towards the end of the year in December. It crossed the 100 barrier due to optimism surrounding the FOMC's (Federal Open Market Committee) decision.
The cautious stance maintained by Fed Chair Janet Yellen, concerning future economic growth, allowed less appreciation in the US dollar after the monetary policy meeting. Going into 2016, the US dollar is expected to trade with higher sensitivity to economic data related to inflation, employment, and housing growth. The impact of the 25 basis point increase in the federal funds rate will be analyzed as growth gathers momentum across the economy.
Article continues below advertisement
The interest rates are expected to rise more in 2016. They should rise at a moderate pace. They will be in line with economic metrics reaching close to the target levels. Tightening in the upcoming months is expected to provide gains in the US Dollar Index. To learn more about the recent liftoff in the interest rates by the Fed, read December FOMC Meeting: Fed Hiked the Key Interest Rate by 0.25% and Fed Chair Janet Yellen's Statement and Its Impact on Dollar Index.
Negative sentiment for crude oil prices
The negative outlook for oil prices will impact economies battling with deflationary pressures like the Eurozone and Japan. If low inflation warrants an increase in the easing policies by the ECB (European Central Bank) and the BoJ (Bank of Japan), the gains in the US Dollar Index could rise more. OPEC (Organization of the Petroleum Exporting Countries) has been keeping production levels high in order to win back market share even if low crude export revenue is the price the members have to pay. With a downfall in crude prices, losses were seen in US oil stocks like ExxonMobil (XOM), Chevron (CVX), and Synergy Resources (SYRG). Even though the volatility in the ETFs was high, the SPDR S&P 500 ETF (SPY) ended the year broadly unchanged. The SPDR S&P MidCap 400 (MDY) ended on a slightly lower note.