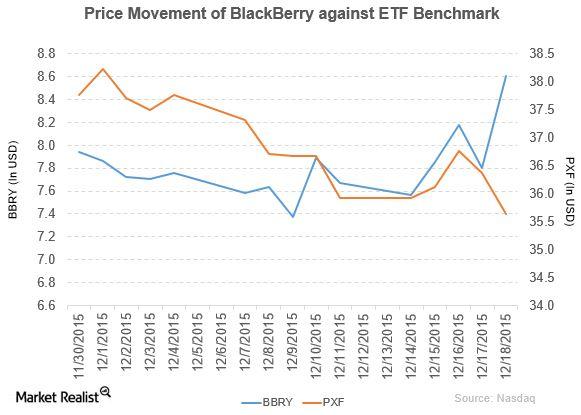 BlackBerry's Revenue Falls, Income Rises in Fiscal 3Q16
BlackBerry's price movement
BlackBerry (BBRY) has a market capitalization of $4.5 billion. Its YTD (year-to-date) price movement was stable in 2015.
After its fiscal 3Q16 earnings report, BBRY rose 10.4% to close at $8.61 per share as of December 18, 2015. The stock's price movements on a weekly, monthly, and YTD basis are 12.1%, 12.8%, and -21.6%, respectively.
Technically, the stock has broken the support of all of its moving averages throughout 2015. Currently, BBRY is trading 10.7% above its 20-day moving average, 14.2% above its 50-day moving average, and 3.1% above its 200-day moving average.
Article continues below advertisement
The PowerShares FTSE RAFE Developed Markets ex-US ETF (PXF) invests 0.13% of its holdings in BlackBerry. The ETF tracks a fundamentally weighted index of 1000 of the biggest companies in developed markets outside the United States based on fundamental measures. The YTD price movement of PXF is -5.6% as of December 17, 2015.
Competitors of BlackBerry and their market capitalizations are as follows:
Performance of BlackBerry in fiscal 3Q16
BlackBerry reported fiscal 3Q16 revenue of $548.0 million, a fall of 30.9% when compared to its net revenue of $793.0 million in fiscal 3Q15. The company's cost of sales as a percentage of revenue rose by 19.6%, and its gross profit margin fell by 16.6% in fiscal 3Q16, compared to the prior year's period.
BlackBerry's net income and earnings per share (or EPS) rose to -$89.0 million and -$0.17, respectively, in fiscal 3Q16, compared to its net income and EPS of -$148.0 million and -$0.28, respectively, in fiscal 3Q15. It reported adjusted EBITDA (earnings before interest, tax, depreciation, and amortization) of $114.0 million in fiscal 3Q16.
Article continues below advertisement
Meanwhile, the company's cash and cash equivalents and short-term investments fell by 22.4% and 25.3%, respectively, on a quarterly basis in fiscal 3Q16. BBRY's current ratio fell to 2.7, and its debt-to-equity ratio rose to 0.99 in fiscal 3Q16. Its current and debt-to-equity ratios were 4.0 and 0.93, respectively, in fiscal 2Q16.
BlackBerry has completed its acquisitions of AtHoc and Good Technology.
The company has launched PRIV, the only smartphone that combines BlackBerry-level security with the Google Play app store's 1.6 million apps. Also, it has confirmed plans to release OS (operating system) version 10.3.3 on BlackBerry 10 to support NIAP (National Information Assurance Partnership) certification.
CEO's comment
According to John Chen, BlackBerry's chairman and CEO (chief executive officer), "We delivered accelerating growth in enterprise software and higher revenue across all of our areas of focus. Our new PRIV device has been well received since its launch in November, and we are expanding distribution to additional carriers around the world in the next several quarters."
Chen went on to add, "To sustain our current direction, we are stepping up investments to drive continued software growth and the additional PRIV launches. I anticipate this will result in sequential revenue growth in our software, hardware and messaging business in Q4."