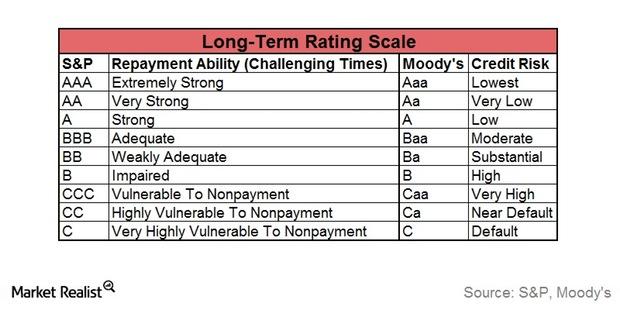 Analyzing High-Yield Bonds and Instruments for Retail Investors
By David Ashworth

Dec. 31 2015, Published 11:28 a.m. ET
What are high yield bonds?
High-yield bonds, also known as "junk bonds," are debt instruments issued by companies. What makes them high-yield, or junk, bonds and different from other types of bonds is the rating that's issued on them. Rating majors Standard & Poor's, Moody's, and Fitch issue ratings for debt instruments. A snapshot of what these ratings mean is given in the following table. For ratings BBB and below issued by Standard & Poor's, we represented the repayment ability of an issuer in difficult times.
Bonds with a rating of BB and below by Standard & Poor's and Ba and below by Moody's are considered to be high yield.
Article continues below advertisement
Why invest in high-yield bonds?
As you noticed, the with a lower rating, the bond is riskier and the repayment ability is lower. So, why would anyone want to invest in "junk" bonds?
The reason is the opportunity of getting a higher yield than bonds in other classes. The principal is simple and powerful—the higher the risk, the higher the return.
For issuers who want to raise money from the market, an instrument's credit rating is crucial. If a rating agency rates its bonds as junk, the issuer won't find any takers until and unless it's willing to offer a higher yield—sometimes a much higher yield—than similar maturity investment-grade corporate bonds like Hewlett-Packard (HPQ). Microsoft (MSFT), Fidelity National Information Services (FIS), and Treasuries.
There are professionals who believe that not all of the issues rated as "junk" are bad. There may be a few companies out there that might be on the path to recovery. Their repayment ability isn't as bad as the credit rating might make it seem. These issuers provide you with the opportunity to earn a much higher yield than other bonds of similar maturities. This compensates you for the higher risk.
Junk bond mutual funds
Given the complexity of the market, institutional investors dominate the trading in high-yield bonds. However, retail investors don't have to sit on the sidelines. They can opt to invest in these bonds through mutual funds like the Hartford High Yield Fund – Class A (HAHAX) and the Putnam High Yield Trust – Class A (PHIGX).
High-yield bonds and related instruments have been in the news recently. We'll see why in the next part.