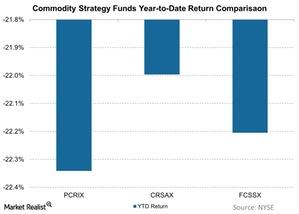 Analyzing Alternative Mutual Fund MERFX: How Did It Perform?
By Ivan Kading

Nov. 20 2020, Updated 3:30 p.m. ET
Alternative funds
An alternative mutual fund uses traditional hedge funds strategies like long or short equity, managed futures, commodity trading, and merger arbitrage to achieve its investment objectives. Alternative mutual funds act as substitutes for hedge funds for a normal investor who can't directly invest in hedge funds. Hedge funds are only for certain types of investors.
Westchester Capital Funds manages the Merger Fund (MERFX). It's an alternative smart beta fund that uses the popular hedge fund strategy "merger arbitrage" to gain profit in the market S&P 500 (SPY).
Article continues below advertisement
YTD performance comparison
The above graph as of December 7, 2015, compares MERFX's YTD (year-to-date) return with other top merger arbitrage using alternative mutual funds like the Arbitrage Fund (ARBFX) and the AQR Diversified Arbitrage Fund (ADAIX). MERFX performed negatively in the market. It gave a total YTD return of -0.9%. Similarly, ADAIX failed to achieve positive growth in the market. It fell considerably this year. Only ARBFX had a positive return. It had a YTD return of 0.2%. However, it was still lower than the market S&P 500's return of 3.5%.
Top holdings
The arbitrage opportunity is primarily a riskless profit situation. In merger arbitrage, stocks of two merging companies are simultaneously bought and sold to create a riskless profit. A detailed analysis of MERFX's investment methodology is provided in this series Alternative funds using merger arbitrage strategies are majorly invested in equities. The strategy involves a continuous trade of stocks. Occasionally, warrants of companies involved in publicly announced mergers and takeovers are also used to carry out merger arbitrage.
MERFX's top ten holdings represent 41.9% of its total portfolio. The top ten holdings of ARBFX and ADAIX form 43.8% and 24.5% of their total portfolio, respectively. Precision Castparts (PCP), AIG (AIG), Chubb (CB), Dow Chemical (DOW), and General Motors (GM) are some of the top stocks among MERFX's portfolio.
In the next part, we'll provide a complete top holding analysis of MERFX.