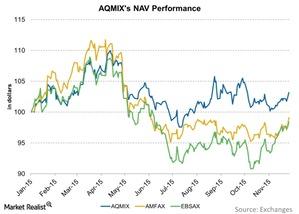 Alternative Mutual Funds: A Structural Analysis of AQMIX
By Ivan Kading

Nov. 20 2020, Updated 2:34 p.m. ET
Alternative strategy
Alternative mutual funds seek to achieve their fund's objectives through non-traditional investments and trading strategies. Alternative funds have the liberty to invest in assets like global real estate, commodities, leveraged loans, start-up companies, and unlisted securities that offer exposure beyond traditional stocks, bonds, and cash used by traditional mutual funds.
The AQR Managed Futures Strategy Fund STR I (AQMIX) is an alternative mutual fund that invests in long and short positions across global equities, fixed income, currencies, and commodities.
The above graph compares AQMIX's performance with other top alternative funds that follow a managed futures approach to investing like the ASG Managed Futures STR-A (AMFAX) and the Equinox Campbell Strategy I (EBSIX).
Article continues below advertisement
Performance comparison
The above graph shows the historical price appreciation or depreciation of the AQMIX, the AMFAX, and the ESBIX if $100 was invested in them simultaneously on March 01, 2013. All three funds manged to produce positive returns for their investors in long-term. The AQMIX managed to provide total return of 6.5% to its investor whereas the AMFAX and the ESBIX performed strongly with a total return of 11.4% and 13.5% respectively to their investors.
Portfolio holdings
The AQMIX invests in four major asset classes—commodities, currencies, fixed income, and equities. The fund took major short positions in the KOSPI 200 Index Futures, the Hang Seng Index Futures, and the S&P/TSE 60 Index Futures. The Hang Seng is a significant future index. It includes liquid holdings like Tencent (TCEHY), CNOOC (CEO), PetroChina (PTR), and HSBC Holdings (HSBC). We'll provide a detailed holdings analysis of AQMIX in this series.