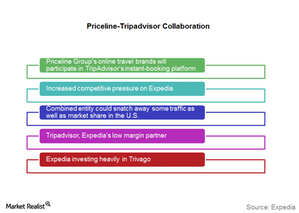 Why Did Priceline Collaborate with TripAdvisor?
Snapshot
Priceline Group (PCLN) is one of the leading online travel companies in the world while TripAdvisor (TRIP), a relatively smaller company, has grown to become one of the industry's leading travel-related search and news websites. The news of the collaboration between the two rival firms came as a surprise for its investors.
Article continues below advertisement
TripAdvisor's instant booking platform
TripAdvisor has become one of the most searched sites for travel-related information. The site sends a substantial number of its customers to Priceline (PCLN) and Expedia (EXPE) to complete their booking processes.
TripAdvisor kicked off its own instant booking feature in June 2014 and has been aggressively dealing with hotel majors such as Marriott International (MAR) to boost revenues.
Priceline–TripAdvisor deal
Priceline Group signed an unusual deal with its rival TripAdvisor under which the latter can provide direct booking facilities to its customers from Booking.com's listings. This deal would make it easier for TripAdvisor's users to book hotel rooms and add to the company's revenue streams. However, it is still not clear how both the companies would share revenues from the deal. This deal is expected to add listings from Priceline.com and Agoda.com in the future. The news of the deal sent TripAdvisor's stock up by ~26% that day.
Although this may look like an odd deal for Priceline investors, the deal is expected to be a first move by the company to make it easier for its customers to book directly from metasearch websites. Priceline noted that TripAdvisor was a low-margin channel for the company and that the new deal could put pressure on the unit and top line growth, yet it would not affect the profitability.
Priceline competes with major online travel companies like Expedia (EXPE), Ctrip (CTRP), Travelzoo (TZOO), MakeMyTrip (MMYT), and TripAdvisor (TRIP). Priceline accounts for 3% of the Top Guru Holdings Index ETF (GURU).