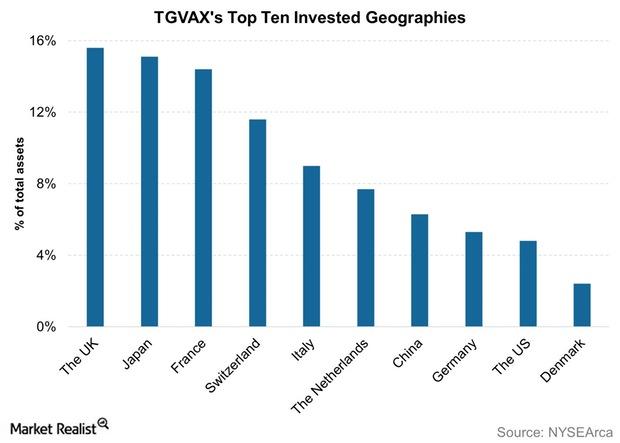 The Thornburg International Value Fund – Class A (TGVAX)
The Thornburg International Value Fund
The Thornburg International Value Fund – Class A (TGVAX) notes that it aims to create long-term value "by investing in equity and debt securities of all types. As a secondary consideration, the Fund also seeks some current income."
TGVAX was incepted in May 1998. As of the end of October 2015, the fund had $10.38 billion in assets under management. Meanwhile, as of the end of October, the fund had 51 holdings in its portfolio.
Article continues below advertisement
Sectoral and geographic breakdown
The Thornburg International Value Fund – Class A (TGVAX) invests 27.9% of its funds in financials, according to the latest available sectoral breakdown as of October 2015. Stocks from the consumer discretionary sector form 18.0% of the fund's assets, followed by industrials, which comprise 12.4% of the portfolio. Healthcare and telecom services, in that order, round out the top five sectors in the fund. The fund has completely avoided the materials sector, and 5.2% of its assets are in cash and equivalents.
As of October 2015, TGVAX's geographic exposure has 15.6% of its funds invested in stocks from the United Kingdom. Stocks from Japan make up 15.1% of the fund's assets, followed by France, which forms 14.4% of the portfolio. Switzerland and Italy complete the top five, making up 11.6% and 9.0% of the fund's total assets, respectively. The fund's assets are well-balanced across geographies.
Japan's Nippon Telegraph and Telephone Corporation (NTT) is TGVAX's largest holding according to its September 2015 portfolio. The largest holding from Italy is Telecom Italia S.p.A. (TI), forming 3.3% of the portfolio. France is represented by Compagnie de Saint-Gobain S.A. (CODYY), apart from Vinci SA. Other holdings include CME Group Inc. (CME) and ING Groep N.V. (ING). Because this portfolio is concentrated compared to its peers in this review, its top ten holdings comprise ~32% of the fund's portfolio.
Fees and minimums
The Thornburg International Value Fund – Class A requires a minimum initial investment of $5,000. Investors who wish to add to their accounts must do so in multiples of $100. The TGVAX can levy a maximum sales charge of 4.5% of the offering price. The expense ratio of Class A of the fund is 1.26%.
Let's look at the Vanguard International Growth Fund – Investor Shares (VWIGX) in the next article.