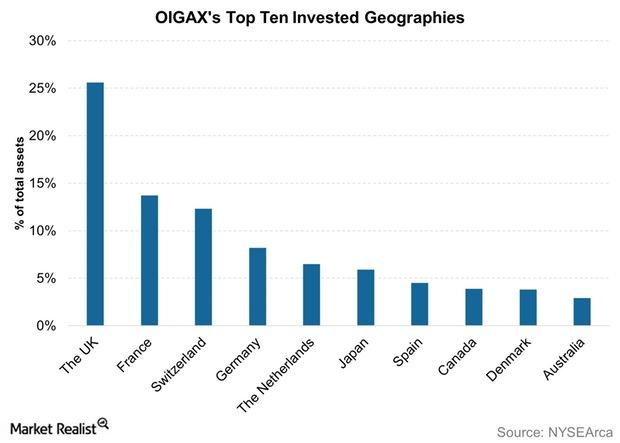 The Oppenheimer International Growth Fund – Class A (OIGAX)
By David Ashworth

Nov. 17 2015, Updated 4:49 p.m. ET
The Oppenheimer International Growth Fund
According to the fund, the Oppenheimer International Growth Fund – Class A (OIGAX) intends to achieve capital appreciation by investing "in the common stock of growth companies that are domiciled or have their primary operations outside of the United States."
Launched in March 1996, the fund had $21.14 billion in assets under management as of the end of October 2015. As of the end of September 2015, the fund had a total of 108 holdings in its portfolio.
Article continues below advertisement
Sectoral and geographic breakdown
If you're invested in OIGAX, 23.7% of your money is invested into the consumer discretionary sector, according to the latest available sectoral breakdown as of October 2015. Stocks from the industrials sector form 20.5% of the fund's assets, followed by the information technology sector, which forms 15.4% of the portfolio. Healthcare and consumer staples, in that order, complete the top five investment sectors in the fund.
As of October 2015, the fund's geographic exposure shows that 25.6% of its investors' money is invested into stocks from the United Kingdom. France and Switzerland are the only other countries whose stocks are in double digits at 13.7% and 12.3%, respectively. All other countries form less than 10% each of the fund's portfolio. Stocks of companies from Germany comprise 8.2% of the fund's net assets, followed by the Netherlands, which makes up 6.5% of the portfolio.
Article continues below advertisement
Canada's dollar-store operator Dollarama Inc. is the fund's largest holding, forming 1.9% of the fund's October 2015 assets. US-based cruise operator Carnival Corporation (CCL), the Netherlands-based Heineken NV (HEINY), the UK-based Vodafone Group Plc (VOD) and BT Group plc (BT), and Spain's Grifols, S.A. (GRFS) are among the top 20 holdings of the fund.
Fees and minimums
If you are interested in investing in the Oppenheimer International Growth Fund – Class A (OIGAX), it requires a minimum initial investment of $2,500. There is no minimum for additional investments. The fund can charge a maximum sales charge of 5.75% of the offering price. The expense ratio of Class A of the fund is 1.14%.
Let's look at the T. Rowe Price International Stock Fund (PRITX) in the next article.