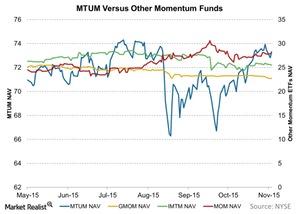 A Structural Overview of MTUM, a Momentum ETF
By Ivan Kading

Nov. 11 2015, Published 1:41 p.m. ET
High momentum portfolio
The iShares MSCI USA Momentum Factor ETF (MTUM) seeks to track the MSCI USA Momentum Index. As implied by the fund's name, this ETF consists of companies issuing equities only in the United States. Its stocks exhibit relatively higher momentum characteristics than the traditional market-cap-weighted parent index, the MSCI USA Index.
Momentum is different from the volatility of a stock. In simple terms, momentum is the rate of acceleration of a security's price or volume. It's very helpful, even more than moving averages, when used in combination with another indicator to estimate the future movement of a share.
Article continues below advertisement
Comparative analysis
The above graph compares the performance of MTUM with other momentum ETFs traded in the market, namely the Cambria Global Momentum ETF (GMOM), the iShares MSCI International Developed Momentum Factor ETF (IMTM), and the QuantShares US Market Neutral Momentum ETF (MOM).
As you can see in the above graph, MTUM has been the most successful ETF among these peers. MOM also performed well, while GMOM and IMTM have been flat.
Why have momentum stocks?
The top five holdings of MTUM include stocks such as Amazon.com (AMZN), Facebook (FB), Visa (V), Starbucks (SBUX), and The Home Depot (HD). A general reason for an investor selecting momentum stocks is that a stock with high momentum will keep following the trend for a longer time compared to other stocks. Momentum stocks also help easily identify a trend.
In the next part of this series, we'll look at MTUM with respect to market and volatility.