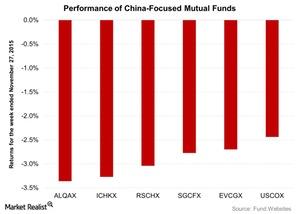 Why the SSE Composite Index Fell Last Week
By Lynn Noah

Nov. 30 2015, Published 11:06 a.m. ET
The Shanghai Stock Exchange (SSE) Composite Index falls
The SSE Composite Index fell 5.3% week-over-week and ended at 3,436.3 points on November 27, 2015, after several large broking houses came under investigation by the China Securities Regulatory Commission (or CSRC). They were suspected of violating securities regulations. The index was also dragged down by weak industrial profits data.
Article continues below advertisement
SSE Composite Index
The SSE Composite Index includes all listed stocks (A shares and B shares) at the Shanghai and Shenzhen Stock Exchanges. A-shares are shares denominated in the domestic currency, the renminbi, and are available only to local investors. On the other hand, B-shares are shares denominated in foreign currencies such as US dollars on the Shanghai Stock Exchange and in Hong Kong dollars on the Shenzhen Stock Exchange. They're available to foreign investors.
Investigation by CSRC
China's large broking houses—Citic Securities Company Limited, Guosen Securities Company Limited, China Haitong Securities, and Guotai Junan Securities—came under investigation by the CSRC for the possible violation of securities regulations. Regulators are also evaluating whether these brokers were involved in financial irregularities that led to China's equity market crash in June 2015.
Article continues below advertisement
Will the yuan be included in the global currency basket?
In a step toward financial liberalization, China is trying hard to get yuan included in the global currency basket called the special drawing rights (or SDR) currency basket. On November 30, the International Monetary Fund (or IMF) will decide on whether to include the yuan in the SDR basket.
Returns on China-focused mutual funds
For the week ended November 27, the AllianzGI China Equity Fund – Class A (ALQAX) posted the most negative returns of 3.4% among the funds under review. It turned out to be worst performer. The Guinness Atkinson China & Hong Kong Fund (ICHKX) fell 3.3% while the RS China Fund – Class A (RSCHX) fell 3.0%.
Returns for the Shelton Greater China Fund (SGCFX) and the Eaton Vance Greater China Growth Fund (EVCGX) came in at -2.8% and -2.7%, respectively. Meanwhile, the US Global Investors China Region Fund – Investor Class (USCOX) had the lowest negative return of 2.4%.
Energy company stock CNOOC Limited (CEO) fell 1.4%, and China Petroleum & Chemical Corporation, also known as Sinopec (SNP), fell 5.6%. The American depository receipt (or ADR) of Youku Todou (YOKU) fell by 0.3% while 58.Com (WUBA) rose 9.5%.