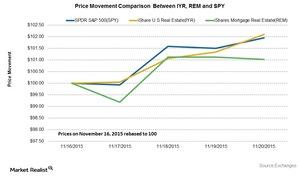 Real Estate Investment Trusts Underperformed the Broad Market
REITs underperformed the broad market last week
For the week ending November 20, 2015, the iShares US Real Estate ETF (IYR) and iShares Mortgage Real Estate Capped (REM) underperformed the broad market index, SPDR S&P 500 ETF Trust (SPY). Though the return numbers for both IYR and REM were positive, they underperformed SPY on an overall basis. IYR recorded a positive return of 3.1%, and REM generated a positive return of 1.3% in comparison to SPY. As things stand, SPY ended the week with a positive return of 3.4%. Net outflows often lead to less cash available for managers to invest, in turn lowering the demand for the fund holdings.
SPY rose 0.4% or $0.8 on November 20, 2015, closing the day at $209.4. The fund fell 0.14% since April and has been on a downtrend since then. Its year-to-date performance is 1.9%, whereas the trailing one-year period's performance has been 1.3%.
The graph above represents last week's price movement between IYR, REM, and the SPY fund.
Article continues below advertisement
Winners and Losers of the week
The top performers of the week from IYR and REM were Weyerhaeuser (WY) and Redwood Trust (RWT), as they generated 10% and 5% positive returns, respectively. Both IYR and REM generated overall positive returns. On the other hand, the return numbers were hampered by securities like Pebblebrook Hotel Trust (PEB), with its negative return of 6.7%, and Rait Financial Trust (RAS), with its negative return of 5.6%, representing IYR and REM, respectively.