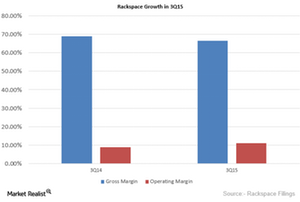 Rackspace Hosting Broadens Its Partnership with Cloud Providers
By Parker Thomas

Updated
Investment in cyber security
Cloud management company Rackspace Hosting (RAX) announced its 3Q15 financial results on November 9, 2015. The market's reaction was positive and drove the stock's price up by 9.3% in after-hours trading. Rackspace reported revenue of $509.0 million in 3Q15 compared to $460.0 million in 3Q14, a rise of 10.7%. Rackspace generates its revenue by providing cloud management services to business clients.
Article continues below advertisement
In 3Q15, Rackspace broadened its partnership with Amazon Web Services (or AWS), Intel, and Microsoft (MSFT) to assist businesses by leveraging the power of cloud computing. Moreover, Rackspace made a significant investment of $100 million in the SaaS (Software as a Service) based security company CrowdStrike, which provides an SaaS next-generation end point protection platform to business clients.
Operating expenses fall in 3Q15
For 3Q15, Rackspace generated a gross margin of 66.7% compared to 69.0% in the same quarter of the previous year. This fall in gross margin came from a rise of 2.6% in the company's cost margin. However, this rise in cost margin was offset by a fall in expenses generated from operations.
The majority of the fall came from general and administrative expenses, which stood at $88.2 million in 3Q15 compared to $419.2 million in 3Q14, an absolute rise of 2.0% and a relative fall of 153 basis points. This, in turn, brought Rackspace's income from operations up by 39.5% to $56.5 million in 3Q15 compared to $40.5 million in the same quarter last year. The company's income margin came in at 11.1% compared to 8.8% in 3Q14.
Outlook for 4Q15
Rackspace expects its revenue to grow in the range of 2%–3% quarter-over-quarter on a constant currency basis. The company expects its adjusted EBITDA margin to be in the range of 33%–34%. For 2015, revenue is expected to grow between 12%–14% YoY (year-over-year) on a constant currency basis, and adjusted EBITDA is expected to be between 33%–34%.
The Power Shares QQQ ETF (QQQ) is a portfolio of 107 stocks, of which the top four stocks Apple (AAPL), Microsoft, Amazon (AMZN), and Google (GOOG) constitute 13.0%, 7.4%, 5.1%, and 4.5%, respectively.