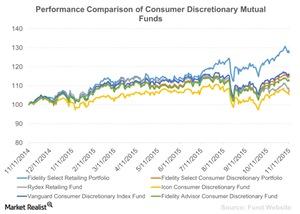 An Overview of Consumer Discretionary Mutual Funds
By Mark Jonker

Updated
Mutual funds
A mutual fund pools money from investors, which is then invested in portfolios of assets that expose investors to professionally managed funds. It is a widely accepted form of investment, particularly in the United States. According to a 2014 survey by the Investment Company Institute and the United States Census Bureau, around 43% of US households invest in mutual funds.
The same survey determined that the respondents' most important reason for investing in mutual funds is savings. Therefore, it's important to analyze different mutual funds on the basis of risk-adjusted performance and not just on the basis of returns.
Article continues below advertisement
Performance of retail sector mutual funds
The chart above shows that, of the selected retail sector mutual funds, the best performer was the Fidelity Select Retailing Portfolio (FSRPX), which provided a return of 27.2% to its investors over one year. In contrast, the ICON Consumer Discretionary Fund (ICCAX) returned 5.1%.
However, if the FSRPX fund had been exposed to higher risks to achieve higher returns, there would have been a higher possibility of the investment strategy backfiring. Most mutual fund investors have moderate incomes and regard mutual funds as a source of savings. Changes in wealth can highly affect their standards of living. Therefore, it's important to look at a fund's performance on a risk-adjusted basis.
In this series, we'll look at each of the following consumer discretionary mutual funds and analyze them on a risk-adjusted basis.
The mutual funds listed above mostly invest in consumer discretionary stocks such as Amazon.com (AMZN), The Home Depot (HD), Walmart Stores (WMT), and The Walt Disney Company (DIS). As all of these companies are from the United States and into the business of selling nonessential goods and services to consumers, they are comparable peers. In the next part of this series, we'll measure fund performance using Jensen's alpha.