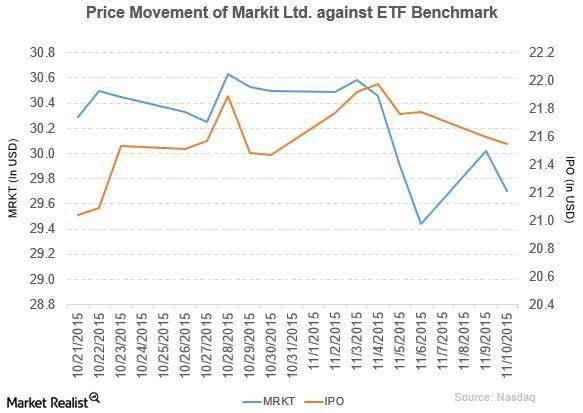 Markit's Revenue Rose, Income Fell in 3Q15
By Gabriel Kane

Nov. 11 2015, Updated 12:02 p.m. ET
Markit's price movement
Markit (MRKT) has a market cap of $5.2 billion. Its YTD (year-to-date) price movement has been rising quarter-over-quarter in 2015. After its 3Q15 earnings report, MRKT fell 1.1% to close at $29.70 per share on November 10, 2015. The price movements on weekly, monthly, and YTD bases are -2.9%, -1.8%, and 12.4%, respectively.
Technically, MRKT stock has broken the support of 20-day, 50-day, and 200-day moving averages throughout 2015. Currently, it's trading at 2.0% below the 20-day moving average, 0.34% above the 50-day moving average, and 8.4% above the 200-day moving average.
Article continues below advertisement
The Renaissance IPO ETF (IPO) invests 0.73% of its holdings in Markit. The ETF tracks a market-cap-weighted index of recent US-listed IPOs. The fund acquires issues within 90 days or sooner after an IPO and sells after two years. The YTD price movement of IPO is -5.3% as of November 9, 2015. The Guggenheim Mid-Cap Core ETF (CZA) invests 0.71% of its holdings in Markit.
Below are some of Markit's (MRKT) competitors and their market caps:
Markit's performance in 3Q15
Markit reported revenue of $277.3 million in 3Q15, a rise of 1.5% compared to $273.1 million in 2Q15. Revenues from the Information and Solutions segments rose 2.3% and 9.2%, respectively, in 3Q15. Revenue from the Processing segment fell 9.2% in 3Q15 on a quarterly basis. Operating income fell 72.9%. Net income and EPS (earnings per share) fell to $6.5 million and $0.04, respectively, in 3Q15, compared to $44.5 million and $0.23, respectively, in 2Q15.
Cash and cash equivalents rose to $283.6 million in 3Q15 compared to $119.5 million in 2Q15. Trade and other receivables fell to $255.1 million in 3Q15 compared to $262.2 million in 2Q15.
The current ratio and debt-to-equity ratio rose to 1.03 and 0.56, respectively, in 3Q15 compared to 0.84 and 0.50, respectively, in 2Q15.
Following are some of Markit's key 3Q15 activities:
Article continues below advertisement
Markit agreed to acquire CoreOne Technologies, a provider of regulatory reporting, index management, data management, and prime brokerage services to financial institutions.
Monex selected Markit for its corporate actions service.
Markit completed the acquisitions of DealHub, a leading provider of trade processing and trading services to the foreign exchange market, and Information Mosaic, a software provider for corporate actions and post-trade securities processing.
About Markit
Markit is a provider of financial information services. Its customers are banks, hedge funds, asset managers, central banks, regulators, auditors, fund administrators, and insurance companies.