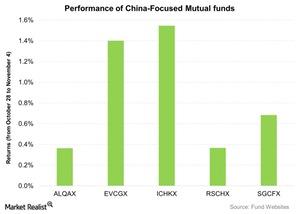 Interpreting the SSE Composite Index's Performance as of November 4
By Lynn Noah

Updated
Shanghai Stock Exchange Composite Index
On November 4, 2015, the SSE (Shanghai Stock Exchange) Composite Index was up by 2.5% from October 28, ending the day at 3,459.64 points. China's equity markets rallied after China's President and General Secretary, Xi Jinping, presented the government's 13th five-year plan. Jinping projected that China's economic growth target would be around 6.5% over the next five years.
Meanwhile, the Chinese stock market also gained momentum in anticipation of the meeting between Xi Jinping and Taiwanese President Ma Ying-jeou, which is scheduled for November 7. Market participants are expecting stronger economic ties between the two nations.
The SSE Composite Index includes all listed stocks (A shares and B shares) at the Shanghai and Shenzhen Stock Exchanges.
Article continues below advertisement
A shares are shares denominated in the domestic currency—for example, the Chinese yuan—and are available only to local investors. On the other hand, B shares are shares denominated in foreign currency, such as in US dollars on the Shanghai Stock Exchange or in Hong Kong dollars on the Shenzhen Stock Exchange, and are available to foreign investors.
Comments by Janet Yellen
Chinese stocks also rose after the comments made by Federal Reserve Chair Janet Yellen on November 3. Yellen stated that a rate hike in December looks to be a "live possibility."
Article continues below advertisement
China's Manufacturing PMI data
China's official manufacturing PMI (purchasing managers' index) reading remained unchanged at 49.8 in October from a month ago. Meanwhile, the Caixin Manufacturing PMI released by Markit came in at a 48.3 in October 2015, after adjustments for seasonal factors, which was up from 47.2 in September.
Chinese stock markets gained after the release of this PMI data, indicating that China's manufacturing sector is stabilizing.
China-focused mutual funds
In this series, we'll analyze five China-focused mutual funds based on their performances in October 2015 as of November 4, 2015. Below is a breakdown of these funds' returns during the one-week period ending November 4:
The Guinness Atkinson China and Hong Kong Fund (ICHKX) posted the highest return of 1.5%.
The Eaton Vance Greater China Growth Fund Class A (EVCGX) and the Shelton Greater China Fund (SGCFX) were up by 1.4% and 0.7%, respectively.
Similarly, the weekly returns of ADRs (American depository receipts) of Chinese technology giants such as Ctrip.com International (CTRP), JD.com (JD), 58.Com (WUBA), and NetEase (NTES) were up by 9.1%, 5.7%, 3.0%, and 2.5%, respectively.
In the next part of this series, we'll look at China's official manufacturing PMI.