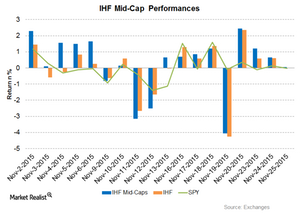 Inovalon Gains 2.1%, to Present at NASDAQ Investor Program
By Peter Neil

Nov. 20 2020, Updated 1:27 p.m. ET
IHF's mid-cap stocks remain flat
The mid-cap stocks of the iShares US Healthcare Providers ETF (IHF) rose by 0.05%, giving a performance similar to that of the fund's large-cap stocks. Of the 20 mid-cap stocks in IHF's portfolio, 11 stocks gave negative returns and nine stocks gave positive returns. Combined, the mid-cap stocks account for ~28.9% of IHF's portfolio. IHF's mid-cap stocks include LifePoint Health (LPNT), Community Health Systems (CYH), and AmSurg (AMSG), which gave returns of -0.55%, 0.25%, and -0.4%, respectively.
The above graph reflects the performance of IHF's mid-cap stocks in comparison to IHF and SPY. Since the beginning of November 2015, to date, the IHF mid-cap stocks have returned 4.5%, compared with IHF's return of -0.1% and SPY's return of 0.7%.
Article continues below advertisement
Inovalon to present at NASDAQ Investor Program
Inovalon Holdings (INOV) was the top performer among IHF's mid-cap stocks, with a return of 2.1%. According to Inovalon's press release, "Keith Dunleavy, M.D., Inovalon's chief executive officer and chairman of the board, will present at the 33rd NASDAQ Investor Program along with Thomas Kloster, chief financial officer and Dan Rizzo, chief innovation officer. The presentation will take place at the May Fair Hotel in London at 9:30 a.m. GMT (4:30 a.m. EST) on Tuesday, Dec. 1, 2015."
Inovalon closed at $18.26 and was trading below 20-, 50-, and 100-day moving averages. Inovalon's RSI (relative strength index) is at 36, indicating that the stock might be moving close to the oversold position. Inovalon has a book value of $4.76 per share. With its current price, the stock is trading at a price-to-book value (PBV) ratio of 3.8x. Inovalon has a weight of ~0.4% in IHF's portfolio.