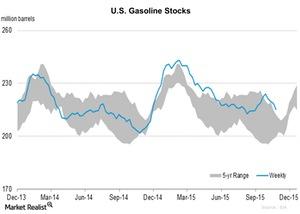 Why Did Gasoline Inventories Fall in Week Ended October 30?
By Manu Milan

Updated
Gasoline stocks
The EIA (U.S. Energy Information Administration) reported that US gasoline inventories fell by 3.3 MMbbls (million barrels) to 215.3 MMbbls in the week ended October 30, 2015. But inventory levels are more than the five-year average range and 6.6% more than they were a year ago.
Article continues below advertisement
Is increased demand guiding gasoline stocks?
Gasoline stocks fell by 3.3 MMbbls, whereas demand only increased by 0.5 Mbpd. So other than demand, factors such as production, imports, prices, and supply have also impacted gasoline stock levels.
Due to refinery maintenance activity, refineries' operable capacity came down, which resulted in a supply shortfall. At the same time, demand for gasoline increased, which resulted in gasoline inventories falling.
The chemical combination of gasoline sold in winter months is different from gasoline sold in summer months. The change limits the amount of stock builds in the current period. This could also be a reason for the fall in gasoline stocks.
Article continues below advertisement
EIA forecasts
The EIA (U.S. Energy Information Administration) forecasts that US gasoline consumption will increase by 2.1% to 0.19 Mbpd in 2015, following growth of 0.9% to 0.08 Mbpd in 2014. Forecast gasoline consumption averages 9.1 Mbpd in 2015, which is the highest level since 2007. Due to improving vehicle fuel economy, gasoline consumption is less than expected. The EIA expects gasoline consumption to remain flat in 2016.
Impact of fall in gasoline inventories
When gasoline inventories fall and there's a rise in demand, it's usually bullish for distillate prices. Higher prices may cause refiners such as Tesoro (TSO), Valero Energy (VLO), Phillips 66 (PSX), Chevron (CVX), and Western Refining (WNR) to increase production. An increase in production results in more revenue to these refiners.
Tesoro accounts for 2.7% of the iShares US Oil & Gas Exploration & Production ETF (IEO).
Higher production volumes result in increased transport volumes for transport operators, which is positive for MLPs such as Northern Tier Energy (NTI), Tesoro Logistics (TLLP), and Valero Energy Partners (VLP).