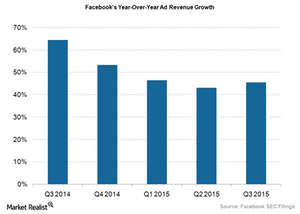 How Facebook Is Looking to Increase Ad Measurement Tool Accuracy
By Puneet Sikka

Updated
Facebook continues to enhance Conversion Lift product features
Facebook (FB) understands the importance of accurately measuring ad campaigns' performance. This helps advertisers and marketers understand which ads are giving them a better rate of investment. Facebook's Conversion Lift product helps advertisers understand their ad campaign performance across different devices, platforms, and channels. In the last quarter, Facebook enhanced its Conversion Lift product so that advertisers can compare the performance of multiple ads.
Article continues below advertisement
These initiatives are helping Facebook with healthy ad revenue growth over the last few quarters, as the chart below shows. Although this growth has slowed a bit, the slowdown is more due to currency headwinds that the whole tech sector is facing. For example, the strong US dollar (UUP) had an impact of 8% on Facebook's revenues in 3Q15.
During the 3Q15 earnings call, Facebook mentioned that Boost Mobile, a Sprint (S) brand, showed ads on Facebook to people who were eligible for device upgrades. This ad campaign helped Sprint attribute a 4% lift in in-store sales with the help of Conversion Lift.
Facebook had relaunched Atlas to improve ad measurement technology
The core of Facebook's ad measurement technology is the re-lanched Atlas ad server that it bought from Microsoft (MSFT) last year. Facebook claims that Atlas can help advertisers improve online campaign measurement and achieve a better return on investments by providing relevant ads to users. Facebook also claims that since it knows people's real identities, it can track users on devices such as tablets, smartphones, and PCs (personal computers).
Twitter (TWTR) acquired TellApart earlier this year to enhance its ad targeting and measurement capabilities. Twitter also partnered with Google (GOOG) to utilize the suite of programs available through Google DoubleClick to measure ads' effectiveness.