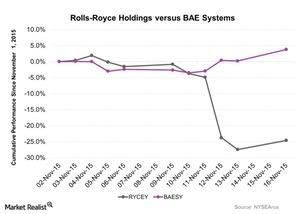 EWU Posted 0.41% Gain, Rising Core Inflation Improved the Outlook
ECB's stimulus
Investors expect the Eurozone economy to be impacted by the recent series of terror attacks, especially its tourism and related industries. This scenario has prompted the European Central Bank (or ECB) to consider fresh stimulus measures during its December meeting. Investors are already betting on the loosening of monetary policies, which could lead to the fall in the value of the euro with respect to the US dollar. This could also make European goods more competitive in the international market and could help to revive the Eurozone's economy.
Article continues below advertisement
According to the report issued by the Office for National Statistics, the rise in the United Kingdom's core inflation rate to 1.1% in October 2015 has created a positive outlook among investors. Out of the 109 constituent stocks of the iShares MSCI United Kingdom ETF (EWU), 99 stocks advanced on November 17.
Key stocks
After France's military response following the November 13 terror attacks on the country, defense stocks gained on November 17, citing the sales opportunities to involved governments. Stocks of aerospace and defense companies Rolls-Royce Holdings (RR) (RYCEY), Cobham, Meggitt (MGGT), and BAE Systems (BA) (BAESY) gained 5.1%, 2.7%, 2.4%, and 2.0%, respectively, on November 17.
The following graph shows the stock price movement of Rolls-Royce Holdings and BAE Systems since November 2, 2015. Some stocks related to tourism and transportation, such as EasyJet, were hurt on the day in the wake of terror attack threats. EasyJet lost 4.1% on November 17.
Top and bottom stocks
On November 17, the stocks at the top of the iShares MSCI United Kingdom ETF (EWU) were Smiths Group, Aggreko (AGK), and Rolls-Royce Holdings (RR) (RYCEY). These stocks gained 10.2%, 6.0%, and 5.1%, respectively, on the day.
Stocks at the bottom of EWU on the day were Anglo American, EasyJet, and Randgold Resources (RRS). These stocks yielded -5.1%, -4.1%, and -2.5%, respectively, on November 17.
Overall, mining and energy stocks fell on the day due to concerns of slow economic growth pace in China. The Direxion Daily FTSE China Bull 3X Shares ETF (YINN) dropped by 1.6% on Tuesday, November 17. Consumer goods stocks Travelport Worldwide (TVPT), Unilever (UL), and Diageo (DEO) gained 0.07%, 0.7%, and 0.4%, respectively, on the day.
For more information on the US equities, please visit our US Equity ETFs page.